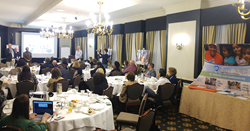 "We are excited to build on our collective strengths and look forward to working with like-minded organizations to help children reach their highest potential."
Oakbrook Terrace, IL (PRWEB) April 13, 2018
On March 1-2, 2018, the Coin Laundry Association's LaundryCares Foundation launched its inaugural LaundryCares Literacy Summit, with literacy experts from across the country coming together at the Union League Club in downtown Chicago. This event coincided with Dr. Seuss' March 2nd birthday and National Read Across America Day. You can follow photos, social posts, and video about the event using #LaundryLit18.
The two-day event, held in partnership with Too Small to Fail and Libraries Without Borders, brought together national organizations to explore the unique role self-service laundries can play in enhancing early literacy efforts within the local communities they serve across the country.
"Due to our tremendous reach in underserved communities, LaundryCares is in a unique position to leverage existing early literacy efforts in neighborhoods across the country," said Coin Laundry Association President and CEO Brian Wallace. "We are excited to build on our collective strengths and look forward to working with like-minded organizations to help children reach their highest potential."
In all, 26 organizations – including the Barbara Bush Foundation for Family Literacy, KaBOOM, the Library of Congress, ReadyNation, major metropolitan public libraries, and universities – were represented at the Summit, which was facilitated by Max Suzenaar of Minding Your Business, a consulting firm based in the Chicago area. Together, the thought leaders in attendance contributed insight, ideas, and expertise that will be used to chart the future course of the LaundryCares Foundation's mission.
In addition, Summit sponsors and in-kind supporters included Scholastic, the world's largest publisher of children's books, and Lakeshore Learning Materials, a leading retailer and distributor of innovative educational products.
"It was inspiring to bring together all of these different people, who are leading the charge in childhood literacy, especially early-stage childhood literacy," Suzenaar noted. "Sometimes, when you pull together like-missioned organizations, there can be a feeling of everyone wanting to protect what they have. However, at the Summit, the extraordinary openness and sharing of ideas and best practices was incredible. These people were so impassioned that it just broke down all barriers. They learned from each other. The development of a coalition goes beyond just entities coming together, and it was clear they each had individual takeaways."
The first day of the Summit in Chicago began with informal networking and lunch, followed by an overview of the upcoming program. Next, Dr. Susan B. Neuman of NYU Steinhardt presented the key findings contained within her whitepaper entitled "Rinse, Read, Spin, Talk: Using Laundromats to Support Early Learning in Underserved Communities." Those in attendance then broke into working groups to share their initial thoughts and reactions to the challenges and opportunities that exist in bringing early childhood reading and literacy resources to communities most in need.
To perfectly illustrate how self-service laundries can play a critical role in childhood literacy, the Summit's attendees boarded a motor coach for an early evening visit to the World's Largest Laundromat, located in the Chicago suburb of Berwyn. Once at the store, Summit-goers were treated to pizza and taken on a tour of the massive facility. And owner Tom Benson discussed some of the many ways in which his business has been able to give back to those within the community his laundromat serves, particularly in terms of programs that reach out to the entire family. AlliedPRA generously donated the motor coach to transport attendees to and from the laundry.
The highlight of the evening at the World's Largest Laundromat was watching that type of family engagement as local entertainer – a clown dubbed "Mary Macaroni" – performed magic tricks, led singalongs, and played games in a fun and energetic way. She awarded prizes of coloring books and pencils – tools to help promote creativity and learning. Afterward, representatives from the Berwyn and Cicero public libraries read books to the children. In addition, more than 500 free books, donated by Scholastics Books, were handed out that night to children in the store.
The second day of the Summit included more in-depth working sessions among the various groups. Attendees shared what they were doing within their own organizations to help promote literacy, which was then used to generate potential opportunities within a laundromat setting for delivering the unique value that each organization offers.
More information including a video synopsis of the event can be found on the blog of the Coin Laundry Association: https://www.coinlaundry.org/blogs/bob-nieman/2018/03/27/laundrycares-foundation-hosts-summit-to-promote-ea
ABOUT THE LAUNDRYCARES FOUNDATION
The LaundryCares Foundation was created by the Coin Laundry Association in 2006. With a mission to provide laundry services and education to those in need, the Foundation strives to give back to the community that supports member businesses. Over the last two years, the Free Laundry Day initiative has become a pinnacle of the Foundation. Occurring in underserved communities throughout the United States, the initiative has garnered the attention of organizations like The Clinton Foundation's Too Small to Fail and Libraries without Borders for its efforts in supporting childhood literacy. "Experience" Free Laundry Day by visiting https://www.youtube.com/watch?v=6B-YIZhQ7z8.
ABOUT TOO SMALL TO FAIL
Too Small to Fail, an early childhood initiative of the Clinton Foundation, promotes the importance of early brain and language development and supports parents with tools to talk, read, and sing with their young children from birth. Today, 60 percent of children in the United States start kindergarten unprepared, lagging behind their peers in critical language and reading skills. Through partnerships with pediatricians, hospitals, faith-based leaders, community-based organizations, businesses, entertainment industry leaders, and others, Too Small to Fail is meeting parents where they are to help them prepare their children for success in school and beyond. Whether at the pediatrician's office or the playground, Too Small to Fail aims to make small moments big by creating opportunities for meaningful interactions anytime, anywhere.
Learn more at http://www.toosmall.org or http://talkingisteaching.org/communities/spaces/laundry. Find resources for parents and caregivers at http://www.talkingisteaching.org or on Facebook (http://www.facebook.com/2smalltofail), Twitter (@2SmalltoFail), and Instagram (http://www.instagram.com/2smalltofail).