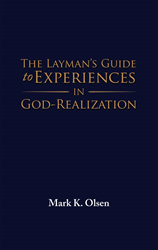 LOS ANGELES (PRWEB) April 16, 2018
Mark K. Olsen shares a collection of inner experiences which are meant to steer readers to a path of fulfillment on their Spiritual journeys in his new memoir, "The Layman's Guide to Experiences in God-Realization."
Through personal stories of his Spiritual experiences, Olsen hopes to encourage others to follow their internal direction and connect with God and their higher "Selves." His recollection of dreams, visions, flashes, and mystical experiences illustrate what happens when a seeker goes within to find truth, and by extension, God.
The author feels that these experiences were granted to him to share with others, and that to find the deepest truths in life, one must go inside. "The kingdom of heaven is within."
Readers who are intrigued by, or who are on a Spiritual journey, will find value in the wisdom shared, and will appreciate the suggestions Olsen offers on connecting within and striving for deep realization.
"The Layman's Guide to Experiences in God-Realization"
By Mark Olsen
ISBN: 9781504395137 (softcover); 9781504395144 (hardcover); 9781504395120 (electronic)
Available at the Balboa Press Online Bookstore, Amazon and Barnes & Noble
About the author
Mark K. Olsen was raised in a small Northern Minnesota town but has spent most of his adult life as an educator in California. He submits that any human credentials he possesses are entirely meaningless, as he feels his knowledge has been given by the deeper "Self" in Spiritual experiences. This is his first book. To learn more, please visit http://www.AuthorMarkOlsen.com.