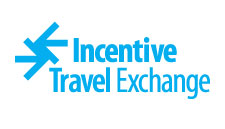 NEW YORK (PRWEB) April 19, 2018
Questex Travel Group's 13th annual Incentive Travel Exchange (ITE) event began last night at The Delano Las Vegas at Mandalay Bay.
Held in partnership with SITE, the Society for Incentive Travel Excellence, ITE brings fully hosted, high-volume North American incentive buyers and meeting planners who have a combined purchasing power of $1.5 billion, together with global suppliers for two and a half days of exclusive networking opportunities and prescheduled one-to-one meetings in private, luxury suites.
The 2018 program launched with a complimentary education session presented by SITE called "Knowing Your Customer and Your Customer's Customer," led by SITE Foundation president John Iannini.
All guests then gathered for a welcome reception complete with stunning views, dining, and cocktails atop the Delano in the Rivea restaurant, hosted by MGM Resorts International.
While some guests turned in after the reception, night owls had their choice of sizzling Vegas entertainment including tickets to Vegas' hottest new show – Magic Mike Live, or zany golf and cocktails at Topgolf, each offering additional opportunities for networking between buyers and suppliers.
The event officially began this morning with a valuable keynote address from Jennifer Martin, published author, motivational speaker, and the founder of Zest Business Consulting. While presenting "Ready, Set, Connect! Networking from Your Brilliance," Martin had attendees up out of their seats and interacting with one another to help them create the best versions of themselves and help them succeed before visitors headed out for their full day of private one-to-one appointments.
Education continued during today's lunch as the new SITE CEO Didier Scaillet gave the audience insights into the future of the incentive market with "SITE 2020 - A Vision to Grow our Global Community and Strengthen the Incentive Travel Industry Worldwide." Additionally, lunch sponsor Québec City Business Destination, presented "Discover Beautiful Québec City."
Organizers plan to close the first full day with a lavish rooftop dinner at the exquisite M Resort, followed by a late night helicopter ride for a lucky group of attendees courtesy of Maverick Aviation.
Attendees are each scheduled to have a minimum of 25 pre-scheduled, private one-to-one appointments before the show ends on Friday evening, and will close with a reception at the Hard Rock Cafe, followed by tickets to the famous Mat Franco – Magic Reinvented Nightly.
ITE 2018 sponsors include Aruba Convention Bureau, BASE Entertainment, Cultivate, Delano Las Vegas, Hard Rock Café, Imprint Events Las Vegas, MGM Resorts International, Michael Gutenplan – The Magic Mentalist, M Resort, Preferred Events, Origin, Québec City Business Destination, Society for Incentive Travel Excellence, SongDivision, The Sun Lux Collection by Sun International, Topgolf, Visit Scotland, and Zest Business Consulting.
Global Meeting & Incentive Travel Exchanges, owned and managed by Questex LLC, bring together qualified buyers and travel suppliers in key locations to provide a powerful platform for productive one-to-one meetings in private suites tailored to each attendee's business objectives. The appointment-based events cater exclusively to the meetings, incentives, conferences and events market. More information is available at GlobalTravelExchanges.com.
About Questex Hospitality + Travel
The Questex Hospitality + Travel Group of Questex LLC serves the worldwide hospitality, travel and related industries that together contribute over $6 trillion to the global gross domestic product. Through an innovative platform of targeted solutions, the group serves the sector's entire ecosystem, from tourism and hotel development and investment to hotel design, purchasing, management and operations.
The Questex Hospitality + Travel Group serves every B2B segment of the industry, from investment and development to management operations, sales and marketing of hospitality and travel products to destination development and marketing, via proven demand generation, learning, loyalty and rewards solutions as well as a network of live events. This division of Questex is aligned around three broad market segments – hospitality, travel and meetings – and supported by its digital media staff.
# # #