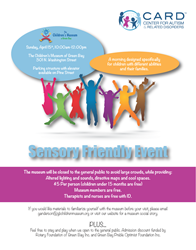 GREEN BAY, Wis. (PRWEB) April 12, 2018
Center for Autism and Related Disorders and The Children's Museum of Green Bay have partnered to host a special event for children with autism spectrum disorder (ASD). Children and their families who attend Sensory Friendly Event will get to experience all the museum has to offer without the usual public crowds, along with altered lighting and sounds. The event will take place Sunday, April 15 from 10am-12pm at the museum, located at 301 N. Washington Street, Green Bay, WI 54301.
"The Children's Museum of Green Bay has a lot to offer to kids in the Green Bay area," said Julie Tran, operations manager of CARD De Pere. "We are very pleased to present an opportunity for members of our local autism community to experience all the fun and learning involved with the museum, without the usual distractions that can make museum-going difficult."
The event costs $5 person, with children under 15 months and museum members getting in for free. Therapists and nurses will also be able to attend free with valid identification. Visit gbchildrensmuseum.org for more information on the museum.
About Center for Autism and Related Disorders (CARD)
CARD treats individuals of all ages who are diagnosed with autism spectrum disorder (ASD) at treatment centers around the globe. CARD was founded in 1990 by leading autism expert and clinical psychologist Doreen Granpeesheh, PhD, BCBA-D. CARD treats individuals with ASD using the principles of applied behavior analysis (ABA), which is empirically proven to be the most effective method for treating individuals with ASD and recommended by the American Academy of Pediatrics and the US Surgeon General. CARD has over 170 locations throughout the United States and internationally. For more information, visit http://www.centerforautism.com.