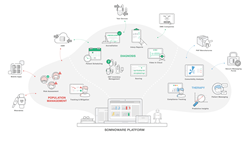 This new funding is expected to further fuel Somnoware's rapid market expansion and enable development of key artificial intelligence (AI) technologies.
SANTA CLARA, Calif. (PRWEB) April 12, 2018
Somnoware, a leading provider of digital health technology, announces the closing of a new funding round. Led by our current lead investor, with participation from other strategic investors, this round adds another $3.5M to Somnoware's previous venture funding round in 2016. This new funding is expected to further fuel the company's rapid market expansion and enable development of key artificial intelligence (AI) technologies.
As the leading respiratory healthcare management software provider in the industry, Somnoware has been generating strong interest among sleep and pulmonary physicians. The company expects this interest to grow further resulting in strong growth opportunities in the years ahead. As testing facilities and healthcare systems continue to allocate larger portions of their budgets to improve diagnostic study and patient management, Somnoware is investing in further solidifying its core technologies.
"We continue to see a strong demand for our diagnostic workflow automation and patient care management platform," says Subath Kamalasan, CEO of Somnoware. "The industry is increasingly interested in the use of predictive analytics for delivering superior patient care and reducing cost. With this new funding, we expect to deliver greater value to existing and new customers."
As the industry's leading respiratory healthcare management platform, Somnoware is currently used by a substantial portion of sleep physicians and pulmonologists in the United States. It is available in two versions — Somnoware for Physicians and Somnoware for Testing Facilities. Physicians get instant access to diagnostic test data, e-signature capability, one-click DME ordering, CPAP compliance data, and the ability to conduct end-to-end patient care management. Sleep and pulmonary test centers can automate their complete workflow including scheduling at multiple centers, inventory management, automated reporting, therapy ordering, and AASM accreditation.
To learn more about Somnoware, please contact Raj Misra at media(at)somnoware(dot)com.
About Somnoware
Somnoware is transforming respiratory healthcare across the globe by reducing cost and improving care management. Our cloud-based software enables care providers to estimate population risk, manage chronic care, and track patient outcomes. We provide context-aware insights through the application of predictive machine learning to patient data integrated from hundreds of sources. Headquartered in Santa Clara, California, our customer base includes leading health systems, accountable care organizations, independent test labs, and service companies. For more information, please visit http://www.somnoware.com or follow us on twitter @somnoware.