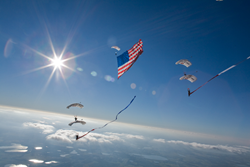 TUSCALOOSA, Ala. (PRWEB) April 13, 2018
April 14th and 15th, the Tuscaloosa Airport will be transformed into the massive event known as the Tuscaloosa Regional Airshow. Aviation enthusiasts from all over the United States will gather to watch some of the world's best aerial performers and to get up close and personal with a wide variety of aircraft.
This year, both days of the airshow will feature two expertly coordinated aerial feats performed by Team Fastrax™. To start each day, the team will gracefully fly in during the National Anthem with their 8,000 sq. ft., 2,500 sq. ft., and 2,000 sq. ft. American Flags. Their performance will also feature Tuscaloosa and Bicentennial banners, a red white and blue streamer, and smoke. Later in the afternoon the skydivers will show off their technical skills with a 4-way CRW Diamond formation, along with two of their American Flags and streamers.
"We are honored to be performing at the Tuscaloosa Regional Airshow," said Team Fastrax™ founder John Hart. "The American Flag demonstration is one of our favorites and we can't wait for the opportunity to not only wow the crowd but to also mingle with fellow aviation enthusiasts afterward."
According to Tuscaloosanews.com, thunderstorms and a 90 percent chance of rain are in the forecast for Saturday, the first of the two-day event set for the Tuscaloosa Regional Airport. City spokeswoman Deidre Stalnaker said the airshow will go on rain or shine, but some of the performers could be delayed by any potential hazardous weather. "We will notify the media and post on social media and (the airshow) website should severe weather push us to alter the show schedule," she said. When the airshow was last held in 2015, the city estimates that about 90,000 showed up on Saturday and 70,000 on Sunday.
To purchase tickets or for more information on the Tuscaloosa Regional Air Show, visit tuscaloosaregionalairshow.com.
These performances of Team Fastrax™ are dedicated to Army Sgt. Raul Moncada, Marine Capt. James C. Edge, Army Spc. Aleina Ramirez Gonzalez.
ABOUT TEAM FASTRAX™
Team Fastrax™, sponsored by SELECTiON.COM®, is the most ambitious professional skydiving team in the world. The team has a roster of more than thirty-eight active members, with a collective of more than 300,000 skydives. Team Fastrax™ has performed exhibition skydives all over the world for audiences large and small as a patriotic display or as a product promotion.
ABOUT SELECTiON.COM®
SELECTiON.COM® is a nationwide provider of criminal and pre-employment background screenings, also referred to as a Consumer Reporting Agency. Headquartered in Cincinnati, OH, SELECTiON.COM® is a veteran-owned company that has been in business since 1991 and offers more than 35 background and data collection services.