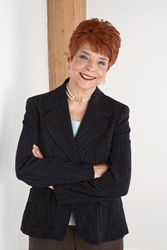 I wanted to tell a story about a woman who took on the establishment and succeeded as no other woman has done in Illinois. She did not always win, but she never gave up in life.
CHICAGO (PRWEB) April 12, 2018
Written by her son, Joseph Baar Topinka, Just Judy is the first and only biography of Judy Baar Topinka, a committed public servant, devoted mother and pioneering Illinois leader. Helping students today learn how government works while inspiring them to get involved, each chapter features themes, activities, projects, and questions for educators teaching students about government and social studies. This biography promises to show readers how one person dedicated to public service and family can succeed while creating a lasting difference in people's lives.
"I wanted to tell a story about a woman who took on the establishment and succeeded as no other woman has done in Illinois. She did not always win, but she never gave up in life, whether as a child, mother, student, newspaper reporter, legislator or state level leader" says Joseph Baar Topinka, who explains that Judy Baar Topinka was more than just his mother. Along with being a riveting story about a woman breaking through glass ceilings, this biography will allow educators to utilize Judy's story as a tool to help teach students leadership, civics, goals and education.
Intentionally designed to meet multimodal learning techniques, Just Judy features sidebars that offer additional information and opportunities for students to pursue outside research and writing activities. With more than 100 thought-provoking discussion questions and activities, teachers can easily weave this story any existing social studies curriculum. Just Judy provides activities, real-life role models, and key life lessons.
"This book may cause young people to wonder, question and learn about how government works and in some cases, does not work. I would like to think of this book as a starting point from which young people can begin to be well-informed citizens," said Topinka.
As with the best children's books, this biography is for both children and adults. In addition to students and educators, Just Judy will inspire the minds of:

Parents – Families can use Judy's story as a springboard to discuss leadership, kindness, integrity, hard work, and the importance of family and heritage. Her life has solid lessons for children and adults now as well as for those incoming generations who will be running our government and businesses.
Journalists – Reporters can be inspired by her early efforts at breaking through glass ceilings to participate in the world of journalism and later in politics.
Illinois Citizens & Aspiring Politicians – This is a positive story about a successful female politician and civil servant that reveals all that she has accomplished in Illinois.
Immigrants who celebrate their heritage while pursuing American citizenship – Judy was proud of her Czech and Slovak heritage, which is evident throughout her biography. Just Judy offers a relatable story of someone who balanced her heritage and her life as an American. She supported the Czech community and held on to tradition while succeeding as a new American citizen.
For more information about Just Judy, visit https://www.judybaartopinka.org. To attend a reading, event or participate in an upcoming promotion visit the calendar below:
A Celebration of Judy Baar Topinka on Thursday, April 12, 2018, 6-8 p.m., Mayne Stage
– Sponsored by the Judy Baar Topinka Charitable Foundation, to honor and remember one of Illinois' own. The first annual "Judy Award" will be presented acknowledging a person who embodies good government, ethics civility and love of heritage. To learn more or purchase tickets visit, https://www.eventbrite.com/e/a-celebration-of-judy-baar-topinka-tickets-40715509184.

Readings and author book signing at the Riverside Library in the Great Room, 1-2 p.m., May 12, 2018.
The chance to win free copies of Just Judy on Goodreads.com through April 2018.
Author appearance at Illinois History Day, May 3, 2018 to provide teachers complimentary copies of Just Judy to support their curriculum goals in studying local and state history.
Hilton Publishing
Publication Date: March 28, 2018
Binding: Paperback and E-book
Genre: Biography / Juvenile Literature / Legislatures - Illinois / Women / Czech-Americans
ISBN: 978-0- 9983282-2- 5 (softcover/pbk.) 978-0- 9983282-3- 2 (E-Book)
Original List Price: $16.95
Availability: Online via Amazon and Hiltonpub.com as well as selected libraries. The E-Book will be available approximately six weeks after the PB edition.
Rights: World/ All