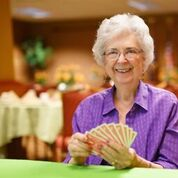 One of the most common questions asked by the loved one to the adult child is, 'Why can't you just keep taking care of me? Adult children tend to feel guilty because they brought their loved one here.
POST FALLS, Idaho (PRWEB) April 18, 2018
Placing an aged loved one in a residential facility is one of the most difficult and emotional decisions an adult child can make, which can cause a torrent of guilt. "One of the most common questions asked by the loved one to the adult child is, 'Why can't you just keep taking care of me?" said April Howard, sales manager of Garden Plaza of Post Falls. "Adult children tend to feel guilty because they brought their loved one here."
Potential residents of Garden Plaza of Post Falls may worry because it's a life-changing adjustment, as they believe they are giving up their independence, and that they are being abandoned by their loved ones, but this also isn't the case at all.
In all actuality, the adult children just want somewhere where their loved one can be cared for correctly, to take them out of isolation and bring them around a social environment where they can interact with other people and participate in activities. They want them to eat the best food and get the overall care and pampering they deserve.
Sharon Robb shared her story in a Google review, "I often describe my mother's life at Garden Plaza as "the reward of a life well lived." Every senior should aspire to spend their retirement years at such a wonderful place. Not only is the facility 5-star quality, the management and staff are equally wonderful."
The process for new residents moving in includes an informative tour at Garden Plaza. Staff has dinner with the family so that way they are comfortable, making the process less like work and more like fun. They sit with a couple of residents to hear their stories, and then show them the different types of rooms available.
It is important to get to know them as a person and what is important to them, tailoring the tour to exactly what they want. Once moved in, they are paired with the resident ambassador for about to week to help guide them around the premises and help with any questions. Then an activities director will interview the resident to get a feel for their interests.
Laura G, a resident's daughter said, "My mom says it's like living in a posh hotel. She is happy that this complex is so well decorated and spacious. My mom may be the tenant, but we have all been welcomed into the GP family and treated with the same respect and friendliness. It's a joy going to visit my mom."
"I call it the cruise ship lifestyle. They get pampered. They are on vacation every day," concluded Howard. "We do everything for them. We do the cooking, cleaning, and transportation. So for them, it's about having fun and enjoying their time. They've taken care of their loved ones their whole life. It's their turn to relax."
"There is always an emotional battle between the adult child and the loved one before moving in," added Howard. "But for most of our residents, they love it. The guilt begins to subside for the adult child as they see their parent(s) happy in their new home."
For more heartfelt reviews about Garden Plaza of Post Falls, please visit https://goo.gl/7CERu9.
About Garden Plaza of Post Falls
Independent living residents at Garden Plaza of Post Falls enjoy community living with the freedom to create a dynamic lifestyle. Services and amenities include choice of restaurant-style meals served daily, casual bistro dining, fitness and wellness center, billiards room, guest apartments, outdoor kitchen and gazebo, outdoor putting green, large swimming pool and spa, worship services and Bible studies and scheduled transportation. For more information, please call (208) 773-3701, or visit http://www.gardenplazapostfalls.com. The community is located at 545 N. Garden Plaza Court, Post Falls, ID 83854.
For media inquiries, please call the NALA at 805.650.6121, ext. 361.