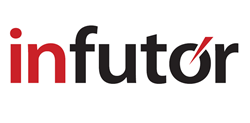 I am thrilled about Infutor's ranking as one of the top 20 Chicago area employers and proud to work with this top-notch team.
OAKBROOK TERRACE, Ill. (PRWEB) April 16, 2018
Consumer identity management expert Infutor today announced that it has been ranked number 19 on the 2018 Crain's Chicago Business Best Places to Work list. Over the past two years Infutor has been on a high growth trajectory after securing a strategic private equity investment, developing its leadership team and solution offerings and expanding to more than 100 employees – all while maintaining a commitment to the company culture of data-driven excellence in a transparent, responsible and supportive environment.
"I am thrilled about Infutor's ranking as one of the top 20 Chicago area employers and proud to work with this top-notch team whose energy and daily successes are helping drive innovation and fuel personal and company growth," said Gary Walter, president and CEO of Infutor. "At the core of our solutions are the Infutor employees' dedication to intelligently connecting companies with their existing and prospective customers through disruptive data-driven solutions."
Infutor is continuing to grow and still hiring for key IT, product development and sales positions. The company, which was also named to the 2017 Inc. 5000, is on track to reach 110 employees by the end of the year.
As consumer identity management experts, Infutor is a rising star in a fast-moving and dynamic industry helping brand marketers more effectively engage with their target consumers. The company helps verify and complete fractional consumer identities on demand, with critical name, phone, address and email information; then completes and enhances customer profiles with demographic, psychographic, behavior, historical, lifestyle and other highly predictive attribute data. This information provides a comprehensive view of consumers for improving omnichannel marketing, inbound identity verification and completion, as well as more effective messaging along a consumer's life journey.
The 2018 Crain's Chicago Business Best Places to Work list is based on nearly 9,000 employee surveys designed to identify, recognize, and honor the 100 best companies to work for in Chicago. Infutor employees were among the thousands of Chicago-area employees surveyed across core focus areas including: Leadership and Planning, Corporate Culture and Communications, Role Satisfaction, Work Environment, Relationship with Supervisor, Training, Development and Resources, Pay and Benefits, and Overall Engagement.
For those interested in joining the Infutor team, please visit the company's career page for current openings.
About Infutor
Infutor is the expert in data-driven consumer identity management. The company is solely focused on enabling brands to instantly gain access to the most complete and accurate information about consumers, exactly when they need it, to make informed marketing and risk mitigation decisions. Infutor's mission is to deliver solutions that accurately identify consumers before, during and in-between engagements, giving brands a secure, privacy compliant foundation to improve inbound engagement and outbound omnichannel marketing reach, and to minimize losses due to fraud and non-payment. Led by information industry veterans, Infutor is a privately held company founded in 2003 with strategic investments from Norwest Venture Partners. Infutor is headquartered in Oakbrook Terrace, Ill. For more information, visit http://www.infutor.com.
# # #