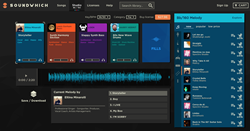 Today everybody is creating beautiful photos and videos, but when it comes to music, it's always like an impossible task that only professionally trained musicians can create. Soundwhich's custom soundtrack technology will change how people think about creating music
SAN FRANCISCO (PRWEB) April 17, 2018
Online platform Soundwhich has announced that 200 billion unique songs have now been created using the service. Soundwhich enables users to customize royalty-free music at the touch of a button. Heralded as the future of song composition, Soundwhich is the new way for users to create their own custom soundtrack.
The Soundwhich music library includes regular contributions from talented artists. Ingredients are categorized into five roles: Melody, Harmony, Bass, Drums and Fills. Users gain access to the entire library absolutely free, and only need to pay should they wish to include Soundwhich pieces in their end production number. Music created using Soundwhich can be used in an incredible variety of ways, so now's the perfect time to get those creative juices flowing.
Demand for royalty-free music and sound effects is on the rise, and this trend shows no sign of slowing. Thanks to the increasing popularity of video streaming and online advertising, brands are on the hunt for a new way to create personalized royalty-free music that fits with their identity. Soundwhich enables them to create their own music, without breaking the bank.
The Soundwhich service rivals that of the best music licensing companies, with one crucial benefit: the end user is now completely in control of the sound they're creating. With Soundwhich, it's never been easier to create new background music, whether customers are looking to compose a piece for a new website, need some traditional, yet unique English background music to play at an upcoming wedding or are hosting a party and want to really blow guests away with a personalized song. Soundwhich users can even create their own nature background music for a soft and calming vibe perfect for yoga retreats and meditation. Those looking for fast background music might want to browse the Soundwhich library of Drum and Bass pieces, where users can discover something to get pulses racing. Pop background music can also be personalized on Soundwich, for birthday parties and celebrations. Royalty free corporate music composed on Soundwhich is ideal for corporate occasions, too.
Melodious background music can be easily created thanks to Soundwhich's common composition specifications, which make mixing a breeze. All Soundwhich's instrumental ingredients conform to a set of parameters including key, tempo, chords and song structure. Take a look at http://www.soundwhich.com for a demonstration of the service.