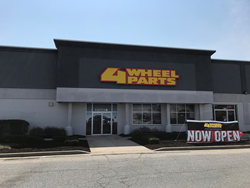 With Glen Burnie's close proximity to so many popular off-roading destinations, this is the ideal location from which to serve our customers throughout the region.
COMPTON, Calif. (PRWEB) April 13, 2018
4 Wheel Parts, the global leader in off-road performance product sales and installation, is bringing the nation's largest selection of aftermarket parts and accessories for trucks and Jeeps to Glen Burnie, Maryland with its grand opening celebration this Saturday, April 14. The family-friendly event, located at 6715-B Ritchie Hwy. will feature exclusive grand opening discounts, installation specials in addition to numerous promotions and giveaways to coincide with the introduction of 4 Wheel Parts' newest state-of the-art showroom and service center.
This launch of the company's 89th North American store and the first in the state of Maryland, continues the off-road retail chain's Northeastern expansion which has been accelerated subsequent to recently establishing their distribution facility in Carlisle, Pennsylvania.
"With Glen Burnie's close proximity to so many popular off-roading destinations, this is the ideal location from which to serve our customers throughout the region," said Store Manager, Jose Pastrana. "From the hardcore off-roader, to the casual enthusiast, along with the customer looking for a new set of wheels and tires, this brand new showroom and service center will provide a single solution for anyone looking to accessorize their truck, Jeep, UTV and SUV. We're looking forward to introducing a 4 Wheel Parts store to the community."
The grand opening event provides visitors their first opportunity to experience the modern, interactive environment showcasing an extensive assortment of products while engaging with the onsite staff of off-road performance experts. Multiple industry-leading manufacturers such as Pro Comp, Rubicon Express, Poison Spyder, G2 Axle and Gear, Wheel Pros, Bestop and MHT Wheels will be joining the festivities as they display and demonstrate their latest products. The event's onsite DJ will take the reins of the day's family-friendly festivities, as guests are encouraged to participate in the bounce house, hot wing eating and frozen T-shirt contests and RTI ramp. During the day, a complementary lunch will be served by Missions Bar-B-Que. Off-road enthusiasts from multiple organizations throughout the region including the Chesapeake Jeep Club, Infidel Jeep Club and the Pasadena Jeep Club are anticipated to join in the celebration. Giveaways such as 4 Wheel Parts Gift Cards along with prizes from Pro Comp, Smittybilt, Hypertech, and Traxxas will be up for grabs along with a $1,000 4 Wheel Parts shopping spree and much more.
Customers taking advantage of special grand opening pricing will be able to immediately book their installation appointments with the staff of ASE-certified technicians who will be onsite providing installation discounts on select products purchased.
"Many people have experienced 4 Wheel Parts through shopping online or attending the many events around the country that we're a part of," said Pastrana. "Now, with the grand opening celebration of our new store here in Glen Burnie, we have the opportunity to share our excitement and enthusiasm for this new location as we look forward to 4 Wheel Parts Glen Burnie truly becoming a part of the off-road, Jeep and 4x4 community here."
What: 4 Wheel Parts Grand Opening Celebration
When: Saturday, April 14 - 9 a.m. – 5 p.m.
Location: 6715-B Ritchie Highway
Glen Burnie, MD 21061
Complimentary Admission
About 4 Wheel Parts
4 Wheel Parts is the global leader in truck, Jeep, SUV and off-road performance products. With 89 locations across the U.S. and Canada and growing, 4 Wheel Parts Service Centers install all the products they sell. Maintaining the nation's largest inventory of off-road tires, wheels, suspension products and accessories, 4 Wheel Parts serves customers across the country and around the globe. Life is Better Off-Road™. Visit them at 4wheelparts.com or call toll-free 877-474-4821.