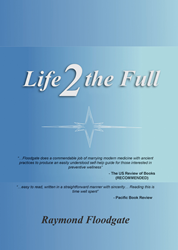 BOSTON, England (PRWEB) April 16, 2018
Living life to the fullest means different things to different people. Raymond Floodgate believes we should not be focusing how full our lives are, but what we fill them with. He urges audiences to focus on five elements that will combat disease, promote good health and keep the physical body fit in "Life 2 the Full."
"Life 2 the Full" presents a self-help guide meant to enhance readers overall wellbeing on the way to achieving the life they've always wanted. Floodgate centers in on five powerful areas to address: correct breathing, relaxation, exercising, balanced nutrition and meditation.
Floodgate has personally improved these five elements with amazing and positive strides in his health. He lived under constant stress and illness, before adjusting his life to bring the physical body back into balance. In addition to featuring beneficial lifestyle tips, his techniques help readers prevent their ailments, instead of curing them.
"Life 2 the Full includes exercise routines, strategies for meditation, drills for breathing correctly, methods for eliminating stress and plans for healthy eating," Floodgate said. "Each of these areas need to be repaired in order to achieve mental, emotional and physical balance. Once balance is struck, nothing can stand in the way of reaching your fullest potential."
"Life 2 The Full"
By Raymond Floodgate
ISBN: 9781524661557 (hardcover) 9781524661540 (softcover) 9781524661533 (ebook)
Available at Amazon, Barnes and Noble and AuthorHouse
About the author
Raymond Floodgate is a certified Reiki master and teacher, a qualified practitioner of energy healing, and an energy healing teacher. He was a practitioner and instructor of Shotokan karate for 12 years but now focuses on preventing illness. To this end, he has studied Tai Chi, Qigong, and meditation.
Review Copies & Interview Requests:
LAVIDGE – Phoenix
Kalin Thomas
480 998 2600 x 540
kthomas@lavidge.com