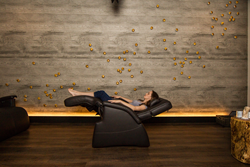 I find myself recommending acupuncture on a very consistent basis because of the wide scope of symptoms and issues it can treat. I believe that this effective holistic approach will have a great impact to the Reno community as it serves as an alternative method of care
RENO, Nev. (PRWEB) April 16, 2018
Modern Acupuncture™, the first franchise to make the natural health and cosmetic benefits of acupuncture available to people in an accessible and affordable delivery, is now open in South Reno. This marks the first clinic to open in Nevada, with two set to open in Reno. There are a total of eight to ten clinics slated to open throughout the state.
Located at the South Meadows Promenade at 537 South Meadows Parkway, Suite 110, the new clinic is surrounded by Sprouts, Jersey Mike's, Panda Express and other retailers. The 1,200-square-foot clinic features 11 zero-gravity acupuncture chairs located in the Zen Den, a relaxing retreat where traditional and cosmetic acupuncture is performed.
"South Meadows serves a growing and vibrant area of South Reno, making it an ideal location for the first Nevada clinic," said Dr. Kris Birkeland, Modern Acupuncture franchisee of the Reno location. "As a chiropractor, I have always been interested in holistic and alternative means for gaining health, but also preventing problems. Acupuncture has had a tremendous impact in my life as it helped my wife through two pregnancies, as well as improved my sleep quality. I find myself recommending acupuncture on a very consistent basis because of the wide scope of symptoms and issues it can treat. I believe that this effective holistic approach will have a great impact to the Reno community as it serves as an alternative method of care."
Modern Acupuncture offers an enhanced acupuncture experience that utilizes needle therapy on nodes to increase blood flow, but unlike traditional acupuncture, does not require the removal of any clothing to access full-body health. A visit to Modern Acupuncture feels like a relaxing retreat, where guests can unwind and possibly even fall asleep, zoning out to peaceful music all while experiencing the healing and/or cosmetic benefits of acupuncture. Sessions are typically 30 minutes or less, and walk-ins are welcome.
Upon entering Modern Acupuncture, guests are greeted by simplistic yet contemporary decor with calming colors and natural wood elements, sending them into an instant state of tranquility. After a customized consultation with a Modern Acupuncture Zen Advisor, guests are taken back to the Zen Den, a relaxing retreat outfitted with soundproof insulation, lounge-style recliners, calming sounds and cool earthtones, ensuring a multi-sensory experience while essential or cosmetic acupuncture services are delivered. Guests leave with a customized treatment plan and a complimentary handcrafted organic tea blend.
Acupuncture is administered by Oriental Medical Doctors who have been certified by the National Certification Commission for Acupuncture and Oriental Medicine (NCCAOM®)​ after completing a four-year masters degree from an accredited school. They are further trained in the specific method used at Modern Acupuncture by Robert Doane, EAMP, L.AC., DIPL., C.H., co-founder at Modern Acupuncture and world-renowned acupuncturist and educator.
Modern Acupuncture offers affordable memberships encouraging guests to add acupuncture to their regular health and wellness routines. The "Pathway Plan" for traditional acupuncture is $69 per month and includes two acupuncture sessions, preferred scheduling and additional visits are only $20. The "Pathway Plan" for cosmetic acupuncture is $89 per month and includes two cosmetic acupuncture sessions (which also includes traditional acupuncture), preferred scheduling and additional visits are only $30. Single walk-in sessions are $59 for traditional and $79 for cosmetic.
In celebration of its opening, Modern Acupuncture South Meadows is offering guests a complimentary first visit within the first 30 days of opening.
Modern Acupuncture South Meadows is open Monday - Friday 10 a.m. to 7 p.m., Saturday from 10 a.m. to 4 p.m. and closed on Sundays. For more information or to book an appointment, please visit https://www.modernacupuncture.com/nv001 or call (775) 300-6143.
##
About Modern Acupuncture™
Modern Acupuncture™ is a franchise concept transforming the alternative medicine market and acupuncture industry. Offering an approachable, natural pathway, validated by thousands of years of practice to better health and wellbeing, Modern Acupuncture is the first franchise to deliver the natural health and cosmetic benefits of acupuncture in a retreat-like setting in highly accessible neighborhood locations across the country. Founded in 2016 and based in Scottsdale, Ariz., Modern Acupuncture currently offers area developer and franchisee opportunities to qualifying entrepreneurs. ACU Development, LLC is the franchisor of MA Modern Acupuncture franchise locations and an operator in some states. In California, Florida, Kansas, New Jersey, Nevada, Oregon, Tennessee, and Washington, ACU Development, LLC and its franchisees provide management services to affiliated professional acupuncture practices. For more information, please visit http://www.modacu.com or call (480) 999-5505.