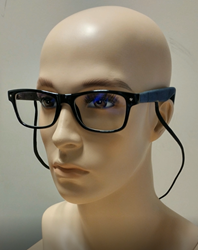 Stanford University School of Medicine and Gen Nine present the world's first cellular-connected, voice operated, smart eye-wear at the Society of Behavioral Medicine's 39th Annual Meeting.
NEW ORLEANS (PRWEB) April 13, 2018
Gen Nine (http://www.gen9.com) today announced the presentation of the results of an NIH sponsored Phase II research study conducted in partnership with the Stanford University School of Medicine. Entitled: An SBIR Industry-academia Partnership in Evaluating a Head Mounted Activity Monitor in Seniors, the study was presented at the 39th Annual Meeting of the Society of Behavioral Medicine, taking place April 11th – 14th in New Orleans LA. The presentation was authored by Jenna Hua1, Ines Campero1, Fernando Fierros1, Dulce Garcia1, Jylanna Sheats2, Mark Fauci3 and Abby King1,4 (1Stanford Prevention Research Center, Stanford University School of Medicine; 2Department of Nutrition, School of Public Health and Tropical Medicine, Tulane University; 3Gen-9 Inc.; 4Health Research & Policy Department, Stanford University School of Medicine).
CosmosVue is the world's first cellular-connected eyewear designed as a new communication and safety monitoring tool for seniors in the long-term home care setting. The wearable device looks like an ordinary-looking pair of prescription eyewear and has an entirely voice-activated interface. The user simply makes verbal requests and the device responds with actions. CosmosVue also has the advantage of being "untethered", which is to say it doesn't need to be connected to a mobile phone for it to make and receive phone calls, send and receive text messages, medication reminders, track heart rate and activity as well as other safety monitoring and communication functions. All the components required for it to work and access the cellular or Wi-Fi networks are built directly into the glasses. CosmosVue was also designed to off-load the technical burdens, such as setting-up contact lists and configuring the glasses to work on a cellular or Wi-Fi network, to caregivers or technical support personnel through a Cloud application called CareCarma. CareCarma permits remote access and control of CosmosVue through a Web portal, Android and iOS mobile apps.
According to the studies' authors, "the advent of wearable technology to monitor physical activity has created unprecedented opportunities to observe, quantify, and define physical activity in the real-world setting. Bringing affordable care to the long-term homecare domain starts with empowering seniors and their caregivers with tools that promote better communication and safety monitoring".
Study participants, aged 65 years and above, reported that CosmosVue may be an attractive, hands-free approach for monitoring activity levels, and may help promote safety in home and in the community environment. Of the thirty participants, 96.7% reported that CosmosVue was comfortable to wear,100% perceived it to be easy to use and with appropriate functions and 90.4% believed that they would benefit from wearing the device.
The next steps in commercializing CosmosVue will take place as part of an NIH sponsored, Phase IIB research project that is expected to begin this spring. This R&D will result in the further improvement of the performance and form-factor of the CosmosVue prototype based on Phase II user evaluations, improve the features and functions of CosmosVue and CareCarma prototype software, develop and test "mass customization" methods that enables cost-effective, iterative design and production capabilities, obtain regulatory approval (FCC, FDA) and cellular carrier (Verizon, T-Mobile, AT&T, Sprint) certification, and complete a large, distributed, pilot study (500+ participants) in collaboration with the Stanford University School of Medicine's SPRC and our Community Care Partners to further validate acceptance and usability.
CosmosVue was developed in collaboration with Stanford University's School of Medicine under multi-year research grants from the National Institutes of Health, the National Institute on Aging, the Commonwealth of Kentucky and the UoL Foundation.