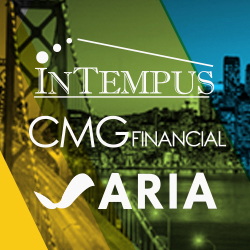 "I am thrilled for the opportunity to collaborate with both Intempus and ARIA, in hopes of offering sound and personalized information for my community's financial success"
SAN JOSE, Calif. (PRWEB) April 13, 2018
In addition to serving the Bay Area in their respective roles through world-class real estate services, mortgage lending, and wealth management services, Intempus Real Estate, CMG Financial, and ARIA Wealth Management have come together to create an educational series with a rotating panel of financial thought leaders.
The Economic Summit Series kicks off May 17th, 2018 from 5:30 PM to 7:00 PM at the Silicon Valley Capital Club. The first event of the series features locally and nationally renowned speaker, Larry Stone, Santa Clara County Assessor.
San Jose Magazine named Larry one of Silicon Valley's 100 Most Powerful Leaders, and his contributions to the political and economic spheres have been praised by everyone from Pulitzer Prize winning author and Washington Post reporter Haynes Johnson to former President Bill Clinton. At the Economic Summit Series, Mr. Stone will share his insights on the local and national economy.
Following Mr. Stone's session, leaders from Intempus, CMG Financial, and ARIA will host an executive panel discussion with Q & A, and further delve into the state of the economy and what to expect in the coming year. The distinguished panel will include Eugene Korsunsky, President and Owner of Intempus Real Estate and Property Management, Kimberly Allen, Branch Manager at CMG Financial, Elizabeth Luna, Director of Wealth Management at ARIA and Lawrence Pizzella, Director of Investments at ARIA. Topics will include the possible likelihood of a recession and how to prepare for and weather an economic downturn.
"I am thrilled for the opportunity to collaborate with both Intempus and ARIA, in hopes of offering sound and personalized information for my community's financial success" said Kimberly Allen, Branch Manger at CMG Financial. "Education and a dedicated team are key!"
If you would like to learn more about the Economic Summit Series, please sign up through our Eventbrite
link: https://economicsummitseries.eventbrite.com
About Intempus:
Intempus Real Estate and Property Management is one of the fastest growing real estate companies in Santa Clara County and has been serving clients since 2004. Intempus has doubled in size each year due to their dedication to professionalism and trustworthiness. Intempus offers a wide range of services for residential and commercial property owners, including property and HOA management, full-service real estate services including unparalleled marketing and support to help owners and buyers get the most out of their investment. Intempus has recently expanded to a new office in San Jose. The new headquarters provides triple the space, so they can fulfill their clients' needs with 300% more manpower, and additional technology that allow the team to perform better in all aspects of real estate. Additionally, the superior tools and ancillary employees provide Intempus with the capacity to manage higher end properties, perform more sales transactions, and grow the company's construction offerings.
About CMG Financial:
CMG Financial is a well-capitalized, privately held mortgage-banking firm built on over twenty years of lending transparency and client service to deliver the right loans for the right reasons in a way that exceeds all expectations. Founded in 1993, CMG Financial now currently operates in all states and the District of Columbia and holds federal agency lending approvals with HUD, VA, RHS, GNMA, FNMA, and FHLMC. CMG Financial contributes to the lending market with three distinct origination channels: Retail Lending, Correspondent Lending, and Wholesale. CMG Financial thrives on providing a personal experience while operating with the resources of a national firm. The company achieves goal to provide extraordinary experiences through operational efficiency and support, product innovation, investment in technology, and in-house marketing. CMG Financial proudly partners with some of the top real estate agencies, financial planning and investment firms, and builders in the nation to help ensure their client's home purchase closes on-time, every time.
About ARIA:
ARIA Wealth Management is an independent investment advisory firm headquartered in Silicon Valley, California that offers an innovative and personalized approach to managing all aspects of our client's financial lives. With more than 70 years of combined industry experience, our ensemble approach offers the benefit of a diversified group of trained and experienced financial professionals specializing in: Wealth Management, Retirement Plan Consulting and Administration, Personalized Investment Management, and Financial Planning. Our collaborative approach to wealth management is centered on understanding who you are, what you hope to achieve, and what keeps you up at night. We put our financial experience to work, sorting through these complexities and offering financial insights and strategies to bring harmony, confidence and clarity to your financial life. Experience what it's like when a dedicated team of specialized professionals work in harmony to accomplish one single objective—your financial success.