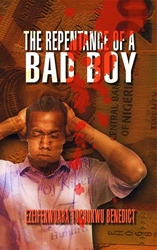 "The drama of 'The Repentance of a Bad Boy' flows through every word; the tension and fire of this work is haunting, unfolding like a bare-knuckle boxing match filled with rage and tears – one can't look away, drawn in by the raw emotion and weight of the story." - Reviewer, Charles Asher
(PRWEB) April 16, 2018
Many African youths get caught up in crime and get-rich-quick schemes to drag themselves out of poverty. The young man in this novel will do anything to get rich. James will steal, scam, and even murder his parents!
Book reviewer Charles Asher writes: "'The Repentance of a Bad Boy' is a powerful and devastating novel about youth, ambition, and the cost of both. Author Ezeifekwuaba Tochukwu Benedict, utilizing the bildungsroman form, delves into the complexities of masculinity in African culture, the influence of post-colonial economic crises on the human spirit, and the collateral damage of a dispossessed generation on the society at large. That being said, these rigorous socio-political critiques function seamlessly – and are inextricably linked – to the compelling crime narrative, a fast-paced and brutal story filled with diverse characters in an artfully drawn world. The drama of The Repentance of a Bad Boy flows through every word; the tension and fire of this work is haunting, unfolding like a bare-knuckle boxing match filled with rage and tears – one can't look away, drawn in by the raw emotion and weight of the story. I highly recommend this book."
This dynamic story shows insights into African culture, while also drawing attention to young men who worship at the altar of money, but eventually have to pay the price. Can bad boys repent?
About the Author: Ezeifekwuaba Tochukwu Benedict is a graduate of University of Lagos, Nigeria, in banking and finance. He is passionate about writing and artwork, and his works can be found in Nigerian magazines, including his church brochure. This is his first novel.
"Exciting. Gripping. Delivers. This intense crime novel describes another culture that most of us will never see. It's a fascinating read and we are excited to be the publisher," said Robert Fletcher, CEO of Strategic Book Publishing and Rights Agency.
THE REPENTANCE OF A BAD BOY (ISBN: 978-1-62857-193-6) is now available for $9 and can be ordered through the publisher's website:
http://sbprabooks.com/EzeifekwuabaTochukwuBenedict or at Amazon.com or Barnesandnoble.com.
WHOLESALERS: This book is distributed by Ingram Books and other wholesale distributors. Contact your representative with the ISBN for purchase. Wholesale purchase for retailers, universities, libraries, and other organizations is also available through the publisher; please email bookorder@sbpra.net.