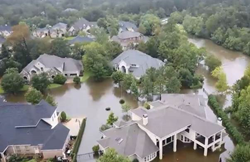 HOUSTON (PRWEB) April 13, 2018
Trial lawyer Jason Webster, founder and principal attorney of The Webster Law Firm, and Kimberley Spurlock, of Spurlock & Associates, P.C., recently filed a complaint in the District Court of Harris County, Texas (Case No. 2017-68069) in a case alleging that the San Jacinto River Authority (defendant) and other businesses acted in their own interest and flooded hundreds of homes. Additional defendants include Hanson Aggregates, LLC; Liberty Materials, Inc.; Megasand Enterprises, Inc.; Triple P.G. Sand Development, LLC; RC Materials LLC; RGI Materials, Inc.; San Jacinto River Materials, Inc.; Stacy Kropik Trucking, Inc.; Taylor Bros., Inc.; Zachry-Odebrecht Parkway Builders; Williams Brothers Construction Co., Inc.; Eagle Sorters, LLC; Texas Sterling Construction Co.; Texas Concrete Sand and Gravel Inc.; Southern Crushed Concrete, LLC; and, Pioneer Concrete of Texas, Inc. The defendants, according to court documents, allegedly dumped sand and silt throughout the years that caused the water levels to rise and attributed to the flood.
Prior to Hurricane Harvey's arrival, it was well broadcasted that there would be record amounts of rainfall on Houston, Texas, and the surrounding areas. Despite this knowledge, and previous history of major flooding in the Houston area, the San Jacinto River Authority allegedly chose not to prepare accordingly. Court documents allege, the San Jacinto River Authority could have released water from the Conroe Dam and not substantially fill the Lake Houston Reservoir, but it failed to do so.
Instead, after Hurricane Harvey dropped 6-15 inches of rain in a 24-hour period, the San Jacinto River Authority began releasing massive amounts of water from Lake Conroe. Court documents further allege this release of water inundated the streets and made water levels rise to record heights, saturating the complete bottom floors of hundreds of homes, and residents were required to evacuate as a result of the San Jacinto River Authority's release. The flood water sat for days in these areas while flooding in other areas away from Lake Conroe quickly went away.
These catastrophic, intentional floods have allegedly permanently and irreparably damaged the plaintiffs, whose homes have been submerged, inundated by sewage and other chemicals dumped in the waters of Lake Conroe and the San Jacinto River basin. The San Jacinto River Authority has allegedly, by virtue of the above-described intentional conduct, taken plaintiffs' property and, intentionally damaged and/or destroyed their homes in violation of the Texas Constitution, Article I, Section 17, which states "no person's property shall be taken, damaged, or destroyed for or applied to public use without adequate compensation being made, unless by consent of such person."
About The Webster Law Firm
The Webster Law Firm handles a wide range of cases and has obtained many successful results. It focuses on representing individuals injured by another party's negligence. Personal injury lawyer Jason Webster is a licensed legal representative in Texas, New York, Pennsylvania, Mississippi, and Oklahoma. He is a member of the American Bar Association, State Bar of Texas, Houston Young Lawyers Association, Association of Trial Lawyers of America, Texas Trial Lawyers Association and Houston Trial Lawyers Association. For more information, please call (713) 396-5197, or visit http://www.thewebsterlawfirm.com. The law office is located at 6200 Savoy Drive, Suite 150, Houston, TX 77036.
About the NALA™
The NALA offers small and medium-sized businesses effective ways to reach customers through new media. As a single-agency source, the NALA helps businesses flourish in their local community. The NALA's mission is to promote a business' relevant and newsworthy events and achievements, both online and through traditional media. The information and content in this article are not in conjunction with the views of the NALA. For media inquiries, please call 805.650.6121, ext. 361.