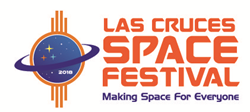 LAS CRUCES, N.M. (PRWEB) April 12, 2018
Celebrating its proximity to Spaceport America, home of Virgin Galactic, Las Cruces will unveil a full-size replica of Virgin Galactic's SpaceShipTwo on Saturday, April 14 to highlight the First Annual Las Cruces Space Festival April 12-14.
The debut event will bring together the collective ingenuity of NASA White Sands Test Facility, Spaceport America, Virgin Galactic, New Mexico State University (NMSU), the City of Las Cruces, and the Las Cruces Public Schools and many others, to showcase Southern New Mexico's burgeoning aerospace industry. This year's theme is "Making Space for Everyone." All events are free and open to the public.
Thursday, April 12 the festivities kick off in recognition of the 57th anniversary of human space flight, when the USSR launched Yuri Gagarin into orbit on April 12, 1961. Activities will include solar observations, space talks, demonstrations and star gazing during the day at NMSU, a Mars Mission Experience at the Challenger Learning Center, one of 40 worldwide established to carry on the mission of the Challenger astronauts; a Space Quiz with prizes at The Game Sports Bar and Grill, 2605 S Espina Street, off University Ave., as well as a 7 PM showing of "Close Encounters of the Third Kind" at the restored Art Deco Rio Grande Theatre.
The fun continues Friday, April 13 with a Space Showcase at the Mesilla Valley Mall from noon – 6pm. The Showcase will feature interactive public exhibits, space heritage displays and more. There will also be another Mars Mission at the Challenger Center. That afternoon, hear from people who have made space exploration their careers at Space Talks beginning at 5:30 pm at Hotel Encanto de Las Cruces. Finish the day at the Rio Grande Theatre, with a 7 PM showing of "The Hitchhikers' Guide to the Galaxy."
Finally, at 2pm on Saturday, April 14, the City of Las Cruces will unveil a full-size replica of Virgin Galactic SpaceShipTwo which will be on display in the parking lot to the northwest of City Hall, 700 N. Main Street. Las Cruces Mayor Ken Miyagishima and representatives from Virgin Galactic will speak at the unveiling, and attendees can photograph or take selfies with the spaceship.
Earlier, there will be another Mars Mission experience at the Challenger Center, a talk at the Branigan Library, a space book signing at Coas Books and a noon showing of "Toy Story," featuring Buzz Lightyear, at the Rio Grande Theatre.
Following the unveiling is the first annual Space Walk from City Hall to the Plaza de Las Cruces. Registration is at 3pm, and the walk begins at 3:30 pm. Prizes will be awarded for the most creative costumes.
The festival will conclude with Making Space for Everyone activities on the Plaza de Las Cruces from 4-8 pm. The event will feature hands-on activities, showcases, displays, and educational activities. There will also be a game of space pickleball, a visiting aircraft, and other attractions.
The full schedule for the First Annual Las Cruces Space Festival is available at http://www.lcspacefestival.com. Attendees are asked to use #lcspacefestival when posting to social media.
About Las Cruces
Nestled in southern New Mexico's Mesilla Valley between the Rio Grande River and Organ Mountains, Las Cruces is quickly becoming a popular southwestern destination. Visitors can experience 72 holes of spectacular year-round golf; world-class Mexican food along the Green Chile "Walk of Flame" and throughout the region, complemented by the Mesilla Valley Wine Trail and the Las Cruces Ale Trail. Birding, cycling and hiking draw outdoor lovers, and nearby White Sands National Monument is the only spot on the planet of its kind. The annual Las Cruces Country Music Festival celebrated its Fifth Anniversary in 2017, and Christmas in Cruces welcomes the holiday season in early December. Las Cruces blends a unique variety of such special events, attractions, culture and historical sites, as well as superb weather, with 350 days of sunshine per year. For more information on all Las Cruces has to offer, contact Visit Las Cruces at (575) 541-2444 or visit http://www.visitlascruces.com.