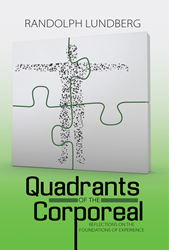 RALEIGH, N.C. (PRWEB) April 16, 2018
Randolph Lundberg lays out his view about how the conscious experience of human beings and other animals is related to the rest of what there is in his new book "Quadrants of the Corporeal: Reflections on the Foundations of Experience."
Often referred to as the "mind/body problem," Lundberg explores the limitations conscious beings have in understanding the causal foundations of their own consciousness. He elaborates on his innovative quadrants view, comparing his theory to those of other writers.
"The reason there is a problem here is that all the discoveries of modern science fail to shed significant light on the question," Lundberg said. "Somehow, conscious experience is created and sustained within each of us, yet nothing that has been learned about us by physicists, chemists or neuroscientists, enables us to understand how that happens."
Lundberg explains that the resources of the universe are limited in such a way that it cannot develop a being with sufficient cognitive powers to fully understand any corporeal object. His book offers a compelling case as to why the "mind-body problem" cannot be solved and that no being that the universe can make, can comprehend what makes conscious beings conscious. This is because observation-based science has no access to remote properties, which play a critical role in producing conscious experience.
"Some of the outwardly observable properties that scientists take pride in discovering also play a crucial role in producing experience, but without knowing the remote properties one cannot figure out how it all happens," Lundberg said. "No conscious creature can understand where its consciousness comes from because every conscious creature, no matter how clever it might be, is dependent for its knowledge of nature on the same spatial transmissions."
For more information, please visit http://www.randolphlundberg.com.
"Quadrants of the Corporeal: Reflections on the Foundations of Experience"
By Randolph Lundberg
ISBN: 9781483472218 (softcover)
Available at Amazon, Barnes and Noble and Lulu Publishing
About the author
Randolph Lundberg has a bachelor's degree in chemistry and physics and a Master of Science degree in applied mathematics from Harvard University. He earned his PhD in philosophy at the University of Minnesota. Though working mainly in the software industry, Dr. Lundberg is a philosopher at heart with interests in consciousness, language, and time. He brings to these subjects not only the benefits of his formal education but also his drive to understand and his precious freedom from the fashions of academic thought.
Review Copies & Interview Requests:
LAVIDGE – Phoenix
Kalin Thomas
480-648-7540
kthomas(at)lavidge(dot)com