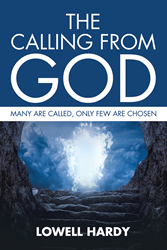 RALEIGH, N.C. (PRWEB) April 16, 2018
In today's society, church leadership bares great and many responsibilities. According to Pastor Lowell Hardy, a minister must have the ability to speak, to teach, and to administer; to possess the gift of compassion and concern for the needs of others and to demonstrate the ability to heal by prayer, by empathy, and by comfort. Hardy helps reader discern if they are built for these tasks and a life of ministry in "The Calling from God: Many Are Called, Only Few Are Chosen."
"The Calling from God" serves as a guide for individuals contemplating God's calling and a role in ministry. Hardy provides insightful commentary and probing questions to help readers decipher how they can best serve the Lord. He helps individuals reach a sound decision based on their life's experience in connection to a Biblical calling.
For those that have chosen a path of servitude, Hardy affirms that decision by elaborating on the requirements, duties and responsibilities of a ministry position. He details the preparation needed to grow in service to the Lord and his church. This reference manual also shares advice on preparing and delivering sermons for effective leadership in the church.
"The calling from God is very personal, yet it places one in a position to deny self and to consider the higher good for all mankind," Hardy said. "The Calling from God is a must read for any who consider neglecting one's self in order serve the Lord and mankind."
"The Calling from God" provides counseling and comfort to those seeking answers about their possible destiny. For more information, please visit http://www.salvationcalling.com.
"The Calling from God: Many Are Called, Only Few Are Chosen"
By Lowell Hardy
ISBN: 9781514453513 (hardcover) 9781514453506 (softcover) 9781514453490 (ebook)
Available at Amazon, Barnes and Noble and Xlibris
About the author
Dr. Lowell Hardy has six degrees including a Doctor of Practical Theology from Master's International school of Divinity in Evansville, Indiana. Lowell is a licensed and ordained minister. He has served in the ministry since 1994. He remains active in ministry as pastor and teacher at Sanders Grove Baptist Church, Smithfield, North Carolina and a field preacher (evangelist) at various churches as called. He served in the military forces, United States Marine Corp and Air Force Reserve, during the Vietnam War and the Persian Gulf War, respectively. He lives in Garner, North Carolina with his wife Portia.
###
Review Copies & Interview Requests:
LAVIDGE – Phoenix
Kalin Thomas
480-998-2600 ext. 540
kthomas(at)lavidge.com