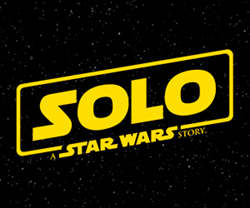 I'm excited to (hopefully) learn a little bit more about Lando from this new movie
CHICO, Calif. (PRWEB) April 13, 2018
Han Solo once told Princess Leia "there aren't enough scoundrels in your life", a sentiment that Design By Humans agrees with wholeheartedly. DBH is excited to announce the release of officially licensed Solo: A Star Wars Story designs on April 13th 2018, the first day Solo merchandise is available to the DBH community for purchase. Join Star Wars fans for the first glimpse of select Solo styles being offered by Design By Humans; be sure there is enough "scoundrel" in the day by getting a DBH Han Solo design.
Design By Humans welcomes thought-provoking and innovative art and is eager to unveil the newest officially licensed designs from Star Wars. The Star Wars story, a classic tale of good vs evil, is an inspiration for creative artwork. The newest designs, with fresh characters and fun retro styles, are a perfect invitation to revisit a galaxy far away. Browse new Solo: A Star Wars Story designs available on Design By Humans today.
DBH's Customer Service Manager, Lindsey Rasmussen, says, "My friend had a hard time pronouncing/remembering my last name for a while. So he just started calling me 'Lindzo Calrissian'. Silly as it may seem, I'm excited to (hopefully) learn a little bit more about Lando from this new movie just because of that!" Star Wars fans across DBH – and the globe – are excited to learn more about the beloved scruffy-looking nerf-herder, Han Solo, and his partners-in-crime with the newest installment of the Star Wars franchise. Set several years before the infamous rebellion of the earlier films, Lucasfilm delves into Han Solo's origin story. Old favorites like Lando Calrissian, Chewbacca, and the Millennium Falcon team up with new characters like Qi'ra, Tobias Beckett, and Val to help explore Han Solo's sordid secretive past.
Add a little more "scoundrel" to your day with an awesome Solo: A Star Wars Story design from Design By Humans.
About Star Wars
The Star Wars franchise came to a movie theater far, far away in 1977 and the world has never been the same. The beloved space odyssey that started with films like A New Hope (1977), The Empire Strikes Back (1980), and Return of the Jedi (1983) has opened the door for continued sagas like The Force Awakens and, now, Solo: A Star Wars Story. The age-old struggle between good and evil has taken on galactic proportions in Star Wars and it continues to awe and inspire fans every day.
About Solo: A Star Wars Story
The latest chapter in the Star Wars story transports audiences back – years before the events of the first Star Wars film – to meet the young smuggler, Han Solo, or the "Kid from Corellia". Audiences will finally get the chance to see how Lando and Solo meet, how the Millennium Falcon was won in a game of sabacc, and maybe even learn more about Han Solo's mysterious childhood. Buckle up and get ready to head into hyperdrive with the new Solo: A Star Wars Story premiering on May 25th, 2018.
About Design By Humans
Design By Humans offers a platform for artists, gamers, and YouTubers to create and showcase their unique artwork as phone cases, wall prints, and fashionable tees, tanks, and more. With 10 years of experience, Design By Humans has woven a shared spirit that thrives on designing vibrant and meaningful art. To learn more about the vision, please visit:
https://www.designbyhumans.com/.
DBH works to build an environment that respects collaboration, quality, integrity, and the entrepreneurial spirit. The DBH Collective is inspired by the comical as well as the abstract, the imagined and the concrete; and works to create innovative art that is an expression and a reflection of today's society.
We are gaming fiends, cat-enthusiasts, and pop culture fanatics. Most importantly, however, we are a passionate team of independent creators who buzz for the next buzz word, whistle as we work, and create designs that inspire the next generation of trendsetters from around the world.
To become a part of the Design By Humans community and submit designs today, we encourage you to visit: https://www.designbyhumans.com/become-an-artist/ and learn more!
Follow Design By Humans on Facebook at /DesignByHumans, on Instagram at DesignByHumans with #designbyhumans, and on Twitter @DesignByHumans.