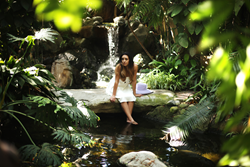 Even though I wrote these poems myself and had a vague idea about their visuals, there could be a thousand different ways to interpret them
NEWPORT BEACH, Calif. (PRWEB) April 13, 2018
Palpitations of Dust, the experimental short film by independent filmmaker, author, and poet Ann Huang has been officially selected for screening at the 2018 London Independent Film Festival (LIFF). The festival will be held from April 13th through April 22nd at Kino Bermondsey in London.
LIFF showcases films by independent filmmakers, focusing on new directors and productions with budgets under £100,000. This year's festival will feature experimental indie films from all over the world. More information about LIFF can be found on their website.
Palpitations of Dust will be screened at the festival on Sunday, April 15th at 6:00pm. The "no-budget" experimental poetry film follows three friends whose lives become complicated when facing choices of friendship, love, and reciprocity.
Palpitations of Dust won the Best Experimental Film award at the 2017 Prince of Prestige Academy Award, Best Award at the Los Angeles Film & Script Festival, Best Experimental Film at the LA Cinema Festival of Hollywood, and most recently, an Honorable Mention: Experimental Film at the Los Angeles Film Awards.
Ann Huang, the Poet, Writer and Director who adapted the film from her own poetry book Love Rhythms, reflected during an interview in LA Film Awards, that the most challenging task to make poem films was to create scenes not only to interpret but also transcend the poems. "Even though I wrote these poems myself and had a vague idea about their visuals, there could be a thousand different ways to interpret them."
Palpitations of Dust is available for viewing on Amazon instant video.
Love Rhythms is also available for purchase on Amazon.
About Ann Huang
Ann Huang was born and raised in Mainland China and her passion for words dates back to her childhood. World literature and theatrical performances became dominating forces during her linguistic training at various educational institutions. As a first generation Chinese American, Huang possesses a unique global perspective on the past, present and future of Latin America, the United States and China. She is an MFA candidate from the Vermont College of Fine Arts and has authored three poetry collections. For more information, visit Ann's poetry website.