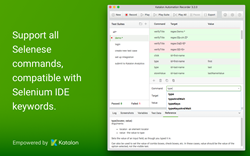 "Intuitive interface, easy to do what Selenium IDE for FF did and quickly to learn for starter. This add-on can be used to automate simple test scenario or generate the "raw" scripts that can be edited using advanced IDE for complex scenario or to be used with external data source."
ATLANTA (PRWEB) April 13, 2018
Katalon LLC, the team behind Katalon Studio known for their free and complete automated testing solution, announced the release of Katalon Recorder 3.4 - the champion project of the Katalon Studio Hackathon contest. Katalon Recorder is the best Selenium IDE-compatible replacement on Chrome and Firefox that helps record, play, debug, manage automated tests as well as export to C#, Java, Ruby, Python, Groovy, or Robot Framework.
Last year, the testing community was disappointed seeing Selenium IDE to be discontinued from Firefox 55 onwards. To support those users who are no longer able to use Selenium IDE or users of popular open source frameworks looking for a handy recorder, the Katalon Studio team developed and released Katalon Recorder.
Katalon Recorder is compatible with the latest Firefox and Chrome browsers. It is set to update automatically when a new version is available on the browser to make sure that users can keep up with its latest features.
Using Katalon Recorder, users can capture web elements and record actions on web applications to generate test case easily. Its intuitive interface allows users to edit, debug and play test cases and test suites quickly.
Katalon Recorder's unique features:

Recording, playing, and debugging (pause/resume, set breakpoints) test cases.
Fastest execution speed.
Fully compatible with all Selenese commands: users can import Selenium IDE tests to Katalon Recorder.
Support HTML "file" input elements (Chrome only).
Easy flow control with if/elseIf/else and while commands.
Supporting data driven testing - data can be imported from CSV file.
Advanced reporting with logs, screenshots, and integration with Katalon Analytics for advanced test execution analysis.
Exporting to Selenium WebDriver scripts to be used in many languages and frameworks including C# (MSTest and NUnit), Java (TestNG and JUnit), Ruby (RSpec), Python (unittest), Groovy (Katalon Studio), Robot Framework, and XML.
Compatible with the latest Firefox and Chrome versions.
Integrating with Katalon Studio for advanced automated testing including creating, organizing, managing, and executing tests.
"Katalon Automation Recorder is a great tool for automation testing and a perfect substitute for Selenium IDE.", said Vijay (Founder of SoftwareTestingHelp.com).
"Intuitive interface, easy to do what Selenium IDE for Firefox did and quickly to learn for starter. This add-on can be used to automate simple test scenario or generate the "raw" scripts that can be edited using advanced IDE for complex scenario or to be used with external data source." (John S. - QA Lead)
**About Katalon LLC
The team at Katalon is comprised of test automation enthusiasts who are passionate about providing the best automation testing solutions for the software testing community.
The team has realized that there are a few excellent community-based tools for developers, but automation testers lack equivalent solutions for their work. They believe testers deserve a free, high-quality and powerful tool to make test automation more efficient and even fun to learn and use.
The team, therefore, have built several free solutions, including Katalon Recorder, Katalon Studio, and Katalon Analytics (beta) to help teams accomplish their test automation goals with ease.
Katalon Studio is a free and complete automation testing solution for Web, Mobile, and API testing with modern methodologies (Data-Driven Testing, TDD/BDD, Page Object Model, etc.) as well as advanced integration (JIRA, qTest, Slack, CI, Katalon Analytics, etc.).
Katalon Analytics (Beta) is a web-based analytics platform that collects automation execution history and generates quality, performance and flakiness reports to improve users' confidence in evaluating test results.
Learn more about Katalon products and their passion at http://www.katalon.com.