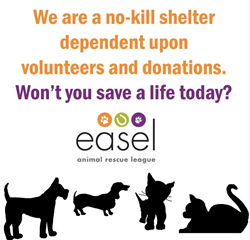 Last year we raised over $2,000 to provide for local animals, and now we've set our eyes on helping EASEL rebuild their playground for pups
LAWRENCEVILLE, N.J. (PRWEB) April 15, 2018
Executive director of central Jersey insurance provider Noto Insurance Advisors, John Noto, is announcing the launch of a charity drive taking place in Mercer County to raise funds for a canine playground. Funds raised from the drive will be given to the EASEL Animal Rescue League, a regional nonprofit, to help build the playground.
"Last year we raised over $2,000 to provide for local animals, and now we've set our eyes on helping EASEL rebuild their playground for pups," said Noto.
Local residents will be able to be part of the charity event as well, thanks to a referral system the Noto team will be using to direct donations. For each person referred into Noto Insurance to receive a no cost insurance analysis, the Noto team will make a $10 donation to help pay for the EASEL pup playground.
Additional details on how to help raise support for the charity drive is available here: http://www.notoinsuranceadvisors.com/Rewards-Program_57.
About Noto Insurance Advisors
The team at Noto Insurance Advisors is committed to offering the best insurance and financial services in the industry. In addition to providing clients with top-notch protection, coverage, and advice, Noto Insurance Advisors actively assists the local community by investing time and resources into charity campaigns directed at improving the quality of life of residents throughout New Jersey. A helpful Noto Insurance Advisors representative can reached at (609) 895-8450.