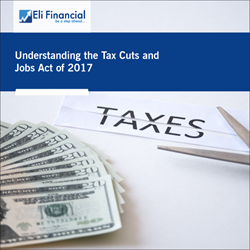 You must change your financial planning strategies to fit the new tax law reality your clients face.
DURHAM, N.C. (PRWEB) April 16, 2018
Eli Financial, a division of audio conference and corporate education leader ProEdTech, will host the live webinar "Understanding the Tax Cuts and Jobs Act of 2017" with industry veteran Arthur Werner on Friday, April 20, 2018 at 1:00pm ET.
The legislation has passed; Congress has drastically changed the Internal Revenue Code by enacting the Tax Cuts and Jobs Act of 2017. That means it's time to make changes to the tax, financial, and estate planning techniques and strategies you use when advising clients.
Get up to speed—and get a new set of planning tools—in this informative session with taxation consultant Arthur Werner. You'll learn what you need to know about revisions to the rules for: standard deduction and itemized deductions, tax credits, retirement plans, and estate and gift taxes. Werner will also explain how to handle new tax rates, education tuition, alimony, business expensing & entertainment, luxury car limits, "kiddie tax" issues, repatriation, and numerous other common tax scenarios.
Werner will outline all the significant changes in the 1,100-page act and explain how these changes will affect the compliance and planning needs of your clients. You cannot afford to miss this session if you provide planning services to clients! Werner will equip you to create and/or update your clients' financial plans for today's tax law reality.
The session will help CPAs, EAs, financial planners, small business owners, attorneys, and other finance & accounting professionals to understand the new legislation inside and out. Here's just a taste of the topics Werner will cover in depth:

Affordable Care Act
Due Diligence
MSAs and HSAs
Fringe Benefits
Home Sale Exclusion
Private Activity Bonds
Alternative Minimum Tax
Recovery Periods
IRC §179
Business Interest restrictions
Net Operating Loss
Business Credits
Tax rates for corporations and pass-through businesses
For more information and to register, visit: https://www.elifinancial.com/taxation/understanding-the-new-tax-act
Get $30 off on our webinars. Use Code PRWEB30 on checkout.
About ProEdTech
ProEdTech is a leading source of knowledge and training for professionals in over 15 industries, serving individuals, businesses and their employees around the globe. It offers webinars, online conferences, seminars, boot camps, books, DVDs, white papers, industry reports and other learning tools from industry experts and insiders who provide a fresh perspective on key issues, trends and regulations in order to simplify governance, risk and compliance (GRC) for enterprises and industry professionals. ProEdTech's AudioEducator webinars offer updates, regulatory knowledge and information on the latest news in various medical specialties, as well as coding and billing updates, and analysis of regulations that affect ambulatory surgical centers, home health, long term care and hospice facilities, hospitals and healthcare systems, health insurers and physician practices. Webinars are also offered through AudioSolutionz in the technology, human resources, construction and housing, ICT and telecom, manufacturing, consumer packaged goods and retail, safety and security, transportation, energy and environment, education, trade, and chemicals industries. ProEdTech's Eli Financial platform offers tax and banking professionals, focusing on providing high-quality online training products customized for U.S. lenders and tax practitioners that include the latest updates from the IRS, CFPB and other regulatory authorities. ProEdTech regularly provides professionals the opportunity to get answers to their most complex questions directly from experts, without having to attend costly live conferences. To learn more, visit: http://www.proedtech.com/.