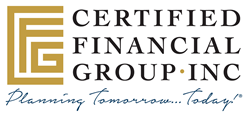 ALTAMONTE SPRINGS, Fla. (PRWEB) April 17, 2018
Certified Financial Group, one of Orlando's oldest and largest financial planning firms, has a whole new look. Among many exciting events, new digital endeavors, and continuous client growth in 2018, the company has launched a new website. The new site has been fully re-designed with improved navigation and functionality while allowing users to see the full portfolio of what CFG has to offer.
FinancialGroup.com's new streamlined content contains many new features including a Financial Journey Survey that allows individuals and employers to assess their personal financial standings. The results allow CFG to offer the next step on the journey to achieving financial peace of mind. Users also have access to online news articles in their entirety without a subscription for the highly distinguished, Wall Street Journal.
Certified Financial Group is also stepping up their social media presence, and has joined Twitter and Instagram, where followers will find market updates, and the most up-to-date tips and information regarding risk management, tax, retirement, investment and estate planning. Founder of CFG, CFP®, AIF® Joseph F. Bert, and his 11 CERTIFIED FINANCIAL PLANNER™ professionals are the go-to financial experts, heard weekly at 9:00am on News 96.5 WDBO's On the Money show, but soon guests will be able to watch and listen on CFG's new Facebook Live broadcast of the show.
"In addition to these initiatives, I'm pleased to announce that we have added two more Certified Financial Planner professionals to our firm giving us more CFP's under one roof than any firm in Florida," said Founder of Certified Financial Group, Joseph F. Bert, CFP®, AIF®. "Our growth is a testament to our philosophy of providing wealth management and financial planning for a fee and embracing a fiduciary standard in client relationships."
For the 7th consecutive year, CFG will be the title sponsor for The Springs Concert in Longwood, where the Orlando Philharmonic Orchestra will perform a discography of Sting and The Police. The annual event, which takes place on April 28th, is just around the corner from the offices of Certified Financial Group and is just one way the team stays involved in their community.
With over 300-years of combined experience, CFG is proud to continue growing, as they guide clients on their financial journey.
Since 1976, professionals at Certified Financial Group have delivered retirement planning and asset management, providing peace of mind to countless families across the country for a fee. CFG is one of the oldest and largest independent planning firms in Central Florida.