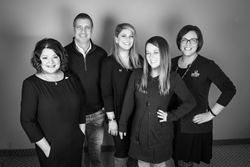 "For years we've shopped and played in First & Main, and now we'll be able to offer Fairway's services to the residents of Hudson from a convenient location right in their own backyard."
STOW, Ohio (PRWEB) April 17, 2018
Fairway Independent Mortgage Corporation is pleased to announce the opening of a new branch location in the First & Main area of downtown Hudson, Ohio. The new branch, the 12th satellite office of the Northern Ohio Fairway team, will service residents of northern Summit County, western Portage, and beyond. Situated in Suite 205 at 89 First Street, this new Fairway location will offer residents a variety of home loan products including conventional and jumbo loans, loans for first-time homebuyers, FHA, VA and Ohio Housing Finance Agency products. Open daily from 9am to 5pm, with office hours by appointment on evenings and weekends, the office will be staffed by The Nichols Team, a cross-functional lending team with a combined total of over 55 years of mortgage lending expertise.
"The city of Hudson was the perfect location for this new office," said Becky Lonteen, senior operations manager. "For years we've shopped and played in First & Main, and now we'll be able to offer Fairway's services to the residents of Hudson from a convenient location right in their own backyard."
The Nichols Team is comprised of loan officer Brian Nichols (NMLS #269659), production partner Faith Dolson (NMLS #1581778), licensed loan officer assistant Nikki Ziats (NMLS #382643), loan processor Jacqui Griffith, and business development specialist Courtney DeMarco. The team consistently ranks among the top producers within the Fairway system, with multiple awards and recognition for sales and service excellence between them. Previously seated in the Stow headquarters of the Northern Ohio Fairway branches, The Nichols Team looks forward to bringing the exceptional service, speed and communication synonymous with the Fairway name to customers in the Western Reserve community. To reach The Nichols Team, call 330-954-0700 or visit http://www.NicholsLoans.com.
The first Northern Ohio branch of Fairway Independent Mortgage Corporation was founded in 1999 by brothers Brian Thomas and Mark Thomas, in Stow, Ohio. Fairway and the Thomas brothers have served the residents of Ohio for nearly 20 years, with offices in Amherst, Fairlawn, Green, two offices in Hudson, Mayfield Village, Salem, two offices in Stow, Uniontown, Warren and also an office in Schererville, Indiana. Fairway offers a wide range of residential mortgage loans, including conventional loans, refinancing, VA loans, FHA loans, reverse mortgages and more. The company was ranked as one of the Top 10 Mortgage Companies in America based on retail volume by Mortgage Executive Magazine in 2015, 2016 and 2017.
About Fairway Independent Mortgage Corporation:
Founded in 1996 by Steve Jacobson, and named by a childhood best friend, colleague and forever member of the Fairway family, Randy Cross, Fairway Independent Mortgage Corporation (FIMC #2289) is a mortgage lender headquartered in Madison, Wisconsin and Carrollton, Texas. The company has more than 400 locations and over 6,600 employees nationwide. At Fairway, customer service, dedication to finding great loan products and rates, and some of the fastest turn times in the industry are essential elements of every customer interaction. For more information, visit http://www.FairwayIndependentMC.com.
Fairway Independent Mortgage Corporation was voted the #1 Best Company to Work For, four years running by Mortgage Executive Magazine. Interested in a career at Fairway? Contact Drew Alurovic at drew.alurovic(at)fairwaymc(dot)com.
FOR MORE INFORMATION, CONTACT:
Jenne McCarty
Regional Marketing Director
Direct: 330-923-6704
jenne.mccarty(at)fairwaymc(dot)com