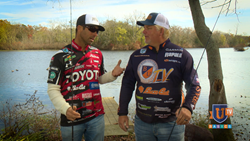 "This program is great for young people as well as adults who are becoming interested in fishing. If you're new to bass fishing, start learning the fundamentals with Bass University Basics." - Pete Gluszek
PITTSGROVE, N.J. (PRWEB) April 16, 2018
The Bass University, the premier learning destination for dynamic online, on the water, and seminar based bass fishing instruction, is excited to announce the launch of their new platform on Bass U TV, The Bass University Basics.
People are discovering bass fishing, and this program is designed to help any new angler get started with the fundamentals. This program can help get a beginner up-to-speed on terminology, purchasing tackle, taking their first fishing trip, preparing equipment, and more! This new platform lays the groundwork for catching bass and confidently enjoying time fishing. Bass U Basics' users will also be prepared with basic knowledge to start learning more advanced techniques and tactics for catching more and bigger bass from our library of over 400 bass fishing seminars and on-water videos, conducted by top tournament anglers who are very generous with their bass-catching secrets.
Pete Gluszek, The Dean of The Bass University commented, "This program is great for young people as well as adults who are becoming interested in fishing. If you're new to bass fishing, start learning the fundamentals with Bass University Basics."
To celebrate this new program, The Bass University is offering new subscribers to Bass U TV a buy one get one FREE offer, two months for the price of one with this promo code: BOGO18
This offer ends at midnight PST on April 24th. Go to http://www.bassu.tv to sign up NOW!
About The Bass University
Founded in 2008 by Mike Iaconelli and Pete Gluszek, The Bass University offers acclaimed bass fishing education programs in three formats: online, in the classroom, and on the water. Their motto is "Never Stop Learning," and The Bass University strives to build effective programs that help anglers of all skill levels gain confidence in new tactics and techniques to catch big bass consistently.
The Bass University offers 2-day classroom training programs taught by today's top bass anglers. They also offer personalized on-the-water instruction with a top pro angler in one-on-one sessions. Anglers around the world—from Japan to Australia, South Africa and beyond—subscribe to BassU.tv, an extensive, online library of instructional videos. The Bass University has students of all skill levels, including the top tournament anglers! Similar to other professional sports where athletes study their competitors, several pro anglers have won big by participating in Bass University classes and watching The Bass University TV instructions. Always look to The Bass University for your fishing instruction. For more information about The Bass University, go to http://www.thebassuniversity.com
Follow The Bass University on Facebook:@TheBassUniversity, Twitter:@BassUniversity and Instagram:@TheBassUniversity