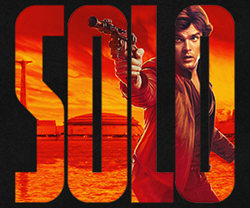 Donald Glover is a smooth operator and was born to play Lando
CHICO, Calif. (PRWEB) April 13, 2018
Han Solo once told Princess Leia "there aren't enough scoundrels in your life", a sentiment that Fifth Sun agrees with wholeheartedly. 5SUN is excited to announce the release of officially licensed Solo: A Star Wars Story designs on April 13th 2018, the first day Solo merchandise is available to the 5SUN community for purchase. Join Star Wars fans for the first glimpse of select Solo styles being offered by Fifth Sun; be sure there is enough "scoundrel" in the day by getting a 5SUN Han Solo design.
Fifth Sun welcomes thought-provoking and innovative art and is eager to unveil the newest officially licensed designs from Star Wars. The Star Wars story, a classic tale of good vs evil, is an inspiration for creative artwork. The newest designs, with fresh characters and fun retro styles, are a perfect invitation to revisit a galaxy far away. Browse new Solo: A Star Wars Story designs available on Fifthsun.com today.
Fifth Sun's Web Developer, Tom Androy, says, "Donald Glover is a smooth operator and was born to play Lando." Star Wars fans across 5SUN – and the globe – are excited to learn more about the beloved scruffy-looking nerf-herder, Han Solo, and his partners-in-crime with the newest installment of the Star Wars franchise. Set several years before the infamous rebellion of the earlier films, Lucasfilm delves into Han Solo's origin story. Old favorites like Lando Calrissian, Chewbacca, and the Millennium Falcon team up with new characters like Qi'ra, Tobias Beckett, and Val to help explore Han Solo's sordid secretive past.
Add a little more "scoundrel" to your day with an awesome Solo: A Star Wars Story design from Fifth Sun.
About Star Wars:
The Star Wars franchise came to a movie theater far, far away in 1977 and the world has never been the same. The beloved space odyssey that started with films like A New Hope (1977), The Empire Strikes Back (1980), and Return of the Jedi (1983) has opened the door for continued sagas like The Force Awakens and, now, Solo: A Star Wars Story. The age-old struggle between good and evil has taken on galactic proportions in Star Wars and it continues to awe and inspire fans every day.
About Solo: A Star Wars Story:
The latest chapter in the Star Wars story transports audiences back – years before the events of the first Star Wars film – to meet the young smuggler, Han Solo, or the "Kid from Corellia". Audiences will finally get the chance to see how Lando and Solo meet, how the Millennium Falcon was won in a game of sabacc, and maybe even learn more about Han Solo's mysterious childhood. Buckle up and get ready to head into hyperdrive with the new Solo: A Star Wars Story premiering on May 25th, 2018.
About Fifth Sun:
Fifth Sun's journey from a small independent t-shirt company was shaped by its continued focus on balance, community, and the personal touch that remains at the core of its identity. With more than 20 years of experience in the industry, Fifth Sun has woven together a shared spirit that thrives on designing vibrant and meaningful art for key brands like Star Wars, Disney, Nintendo, Marvel, and more.
Fifth Sun is a company of artists, designers, creators and, above all, dreamers. We are inspired by the world around us and enjoy making the imaginary into a reality. We track trends in art, music, pop culture, internet memes, and fashion to design art that is accessible and relatable to diverse audiences. We create progressive, ethical, and original artwork.
We've never lost our sense of curiosity and it drives us to create unforgettable fashions for your favorite brands.
Please let us know what you think of the shirts by tweeting us (@5Sun) or sharing photos of you on our Facebook (@FifthSunGraphics) & Instagram @FifthSunOfficial)! We're your biggest fans and would love to see you strut your stuff.