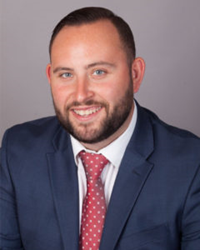 "We are excited to have Jonathan as part of our team"
DANVERS, Mass. (PRWEB) April 15, 2018
Jonathan Shanahan MLO # 1182126 joins New Fed Mortgage and will be working at the new office located in Winthrop, MA.
Jonathan comes to New Fed with a lending background spanning over the last 7 years and holds a Bachelor's Degree in Constitutional Law from Becker College. He began his mortgage origination career in 2015 and takes great pride in consistently maintaining a personal level of customer service which is his top priority.
He is passionate about helping people to achieve their financial goals with homeownership, whether they may be looking to purchase their dream home, save money by refinancing or simply by recommending available options to leverage their equity for home improvements or college expenses.
Jonathan, who is a native of Massachusetts, grew up in Winthrop where he presently resides. He maintains a close bond with his family and friends along with the numerous business relationships he has developed over the past several years.
President and CEO Brian D'Amico commented, "We are excited to have Jonathan as part of our team. His professionalism and dedication to help his clients combined with his mortgage lending experience will enhance our mortgage origination endeavors in Massachusetts".
New Fed Mortgage, locally based in Massachusetts has specialized in residential retail mortgage lending since 2001. Licensed in seven states, New Fed offers a multitude of mortgage programs, including Conventional, FHA, VA, USDA, Mass Housing, and New Hampshire Housing along with access to various portfolio products.