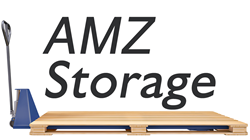 AMZ Storage helps third-party sellers make smart inventory management a top priority to be successful on Amazon.
Whitehall, PA (PRWEB) April 18, 2018
AMZ Storage, a storage provider focused on helping small businesses succeed on Amazon, recently launched a service for online third-party sellers who need to minimize the effects of Amazon's 2018 U.S. FBA Inventory Storage Fees and Policy Changes. Amazon updates its policy every year, and the fees almost always go up, but sellers definitely will feel profits pinched by changes going into effect throughout 2018.
AMZ Storage caters to new sellers and sellers of new products, because they are most vulnerable to overstocking in hopes of a successful new product launch. However, services are available to all third-party sellers who wish to store more inventory outside of Amazon fulfillment centers to avoid long-term storage fees and inventory storage overage fees.
"Amazon is really making it clear [that] it only wants to store products with a fast turnover rate," said Matthew Fegely, Warehouse Foreman at AMZ Storage. "That makes it tough for sellers with new products. Sometimes it can take a while to gain visibility and sales, because Amazon's catalog has grown so large."
Important dates to remember:

April 1, 2018 - Amazon increased its monthly inventory storage fees
July 1, 2018 - Amazon limits storage access for any seller whose Inventory Performance Index (IPI) score has fallen below 350
August 15, 2018 - Amazon charges a minimum $0.50 per unit for inventory that has been in its fulfillment centers over 365 days
September 15, 2018 - Amazon replaces the semi-annual Long-Term Storage Fee with a monthly Long-Term Storage Fee
October 1 through December 31, 2018 - Amazon significantly increases its monthly inventory storage fees for the fourth quarter
Now, more than ever, sellers must make smart inventory management a top priority if they hope to be successful on Amazon. AMZ Storage is designed to help third-party sellers keep their IPI score high by avoiding long-term storage fees on their slower moving inventory, and by avoiding long periods of stock-outs on their best sellers. A great way to maintain a high IPI score is by keeping just enough inventory on hand at Amazon fulfillment centers to cover 30 to 60 days of projected sales at all times.
"I think anyone who decides to store inventory with us will be happy to have found a way to keep their products on Amazon and improve profits at the same time," said Lori Stalter, CEO of AMZ Storage. "We keep our storage rates the same year-round. This especially helps sellers October through December when Amazon more than triples its [storage] rates for the holiday selling season."
In celebration of its launch, AMZ Storage is offering new clients $20 off their first storage invoice for a limited time. Use Referral Code AMZ-10160709 when contacting AMZ Storage at its Contact Us page to receive the discount.
People can learn more about additional services AMZ Storage has to offer by visiting its website at amzstorage.com.
About AMZ Storage
Located within a natural hub for warehousing in Lehigh Valley, Pennsylvania, AMZ Storage provides cost effective storage alternatives to Online Third-Party Sellers. AMZ Storage believes in building strong foundational relationships with its clients which enable both parties to grow. With a steadfast commitment to excellent service, AMZ Storage combines storage expertise with its own experience as a Third-Party Seller to bring empathetic solutions to every client. To find out more about what AMZ Storage has to offer, please visit amzstorage.com.