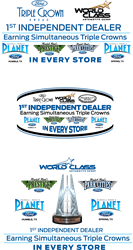 "Ford said that this is a record that had over a billion to one odds of happening." - Randall Reed, owner of World Class Automotive Group
DALLAS (PRWEB) April 14, 2018
A historic announcement from Ford Motor Company stated that every Randall Reed Ford dealership location has earned the automobile manufacturer's highest honor, the Triple Crown Award. It is unprecedented for an independent Ford dealer to earn this award at every single location within the same year.
According to Ford, only 20 dealerships nationwide ever win the Ford Triple Crown. Randall Reed's family of Ford dealership won four in a single year out of 2,100 dealerships.
"Ford said that this is a record that had over a billion to one odds of happening," said Randall Reed, owner of World Class Automotive Group. "The Triple Crown is bestowed upon only the best of the best. So, it's an incredible feat to achieve this honor at every single one of our family-owned Ford locations but to also have received it year after year, as many locations have."
The Ford Motor Company Top Volume Dealer Hall of Fame annually recognizes a very select group of Ford dealers who have been the dealer principal at a high-performing dealership for 25 or more years and are known as outstanding retailers and community leaders.
"We are very pleased to recognize Randall Reed with this prestigious award," said Mark LaNeve, Vice President - Marketing Sales & Service, Ford U.S.
While this is a first for all of the dealerships to win the honor simultaneously, it's the sixth consecutive Triple Crown for Planet Ford in Humble, and repeat honor for Planet Ford in Spring, Prestige Ford in Garland and Park Cities Ford in Dallas.
To be recognized with the highly sought after Triple Crown, each dealership had to receive all of Ford's top awards, which include the President's Award for customer service; being selected for the Ford One Hundred Club based on vehicle sales; and making the Ford Customer Service Premiere Club.
"As a family-owned dealership group, we take great pride in taking care of our customers like one of our family members or friends," said Sherry Reed, co-owner of World Class automotive. "We have such a wonderful, caring team that really work hard every day to make sure that our customers receive the service they deserve every step of the way."
Shelby Reed, co-owner of World Class Automotive Group, agrees, "We are thankful to receive these amazing awards," she said. "Not only does it show that our team is always striving to do a great job, but always striving to put our customer and their needs first. Helping people and happiness is what our dealerships are all about."
About World Class
World Class Automotive is owned by Randall, Sherry and Shelby Reed. The family-owned business is comprised of several dealerships throughout Texas, including: The #1 Ford dealership in Texas, Planet Ford in Spring, Planet Lincoln in Spring, Planet Ford in Humble, Prestige Ford in Garland and Park Cities Ford and Park Cities Lincoln in Dallas. ReedHasIt.com.
*Based on retail ford sales reported by Ford annually since 1998.