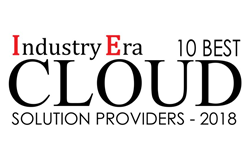 Cloud Computing is always evolving, and our goal is to be first to offer new SAP solutions in the cloud
MILWAUKEE (PRWEB) April 16, 2018
Approyo, a leading enterprise provider of cloud-centric SAP solutions, announced today that Industry Era named Approyo one of the "10 Best Cloud Solution Providers of 2018".
Approyo was nominated and selected by Industry Era annual comprehensive review process. Industry Era's editorial team analyzed approximately 500 companies that provide cloud solutions and are at the forefront of tackling customer challenges. From that list, 25 companies were shortlisted and reviewed by a distinguished panel comprising of CEOs, CIOs and analysts, including the Industry Era editorial board, who ultimately decided the final top 10.
"Christopher's passion to provide cloud and SAP technology solutions and vision to be most customer centric SAP HANA technology solution company, made Christopher a strong contestant. We congratulate Christopher and the entire Approyo team for their successful endeavor" said Sarah Fernandes Managing editor of Industry Era.
"Cloud Computing is always evolving, and our goal is to be first to offer new SAP solutions in the cloud," said Christopher Carter, CEO of Approyo. "This achievement continues to validate our success in the SAP and Cloud marketplace."
The magazine spotlights companies that provide leading, effective and groundbreaking technologies. For the full article, please visit Industry Era.
Approyo has been providing solutions powered by SAP HANA®, such as the latest version of SAP S/4HANA®, in the cloud for the last three years. Approyo built an entire platform using the best solutions in the market, helping companies move to SAP HANA quickly and benefit immediately.
About Approyo
Approyo offers products and services that include upgrades, comprehensive remote operations/managed services, consulting, hosting and implementations and cloud services. Approyo differentiates itself by offering scalable managed solutions built on SAP HANA for organizations of all sizes. Headquartered in Milwaukee, WI and offices in throughout North America, Europe and South America, plus partners around the world, Approyo has the capability to support global organizations and their applications.
For additional information e-mail us at info(at)Approyo.com, call 404.448.1166, or visit us on the web at http://www.Approyo.com.
About Industry Era
Industry Era is a technology magazine that features and talks about the enterprise solutions that can play a key part in redefining the business goals of organizations. Industry Era has become the leading sources who are sharing innovative and unique services developed by established vendors who have not yet been able to gain limelight.
Industry Era has culminated into one of the most trusted, interactive, community destination for decision makers, C level executives and other high-level IT executives to connect on key issues and business challenges. We follow a unique approach of blending content.
###
SAP, SAP HANA, SAP S/4HANA and other SAP products and services mentioned herein as well as their respective logos are trademarks or registered trademarks of SAP SE (or an SAP affiliate company) in Germany and other countries. See http://www.sap.com/corporate-en/legal/copyright/index.epx for additional trademark information and notices.
All other product and service names mentioned are the trademarks of their respective companies.