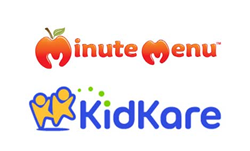 RICHARDSON, Texas (PRWEB) April 16, 2018
In January 2018 more than one million children were served healthy, CACFP compliant meals, and those meals were reimbursed through Minute Menu Systems software! Minute Menu is proud to know that their work is helping childcare providers and children in a tremendous way.
Achieving this long-term goal was a cause for both celebration and reflection on the impact that their day-to-day work has on the lives of children across America. Minute Menu is humbled and inspired by their part in supporting healthy meals for our nation's children, and they are honored that their customers have chosen Minute Menu to partner with them in this work.
Minute Menu recognizes the hard work being done by educators, caregivers, and childcare support staff who dedicate themselves to teaching, nurturing, and caring for the children of working families. Minute Menu is proud to support childcare providers with software that meets their record-keeping and compliance needs so that they can focus on caring for the youngest generation.
About the CACFP
The CACFP is a program that provides assistance to daycare homes and centers by giving them the ability to provide nutritious meals and snacks within their program. More than 4 million children receive healthy meals every day because of the CACFP which contributes to a healthy and active lifestyle. The CACFP makes a substantial impact on the lives of childcare providers, children, and their families.
About Minute Menu
For over 25 years, Minute Menu Systems has provided software solutions to meet the business management and Food Program needs of all aspects of the childcare community. Over 100,000 family and center-based childcare providers use Minute Menu products each month to track and report CACFP reimbursement data to sponsors and state agencies. Currently, Minute Menu has nearly 600 sponsors in over 48 states using the Minute Menu HX software to facilitate monthly family provider claims, and more than 6,000 childcare centers using Minute Menu CX. Minute Menu also offers KidKare, an affordable SaaS-based childcare management solution that is specifically designed for family childcare providers. For more information, visit http://www.minutemenu.com and http://www.kidkare.com.