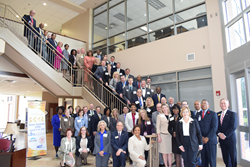 "This institute will give participants the opportunity to look closely at workforce training and regional job opportunities with an emphasis on how automation and technology will continue to change job opportunities." -J. Noah Brown
WASHINGTON (PRWEB) April 13, 2018
Community college trustees, presidents and other executive staff members from the Alabama, Kentucky, Louisiana and Mississippi closely examined the board's role in student success, completion, equity and workforce development. This is the first-ever Governance Institute for Student Success designed specifically for states that have one statewide governing board for all colleges within the state, including Alabama, Kentucky and Louisiana. While Mississippi does not have a statewide governing board, members of its coordinating board participated in the event.
ACCT President and CEO J. Noah Brown, who spoke at the event, said, "We're excited to bring you together to improve student experiences and outcomes throughout the region. In addition to data-informed governance and effective board functioning, this institute will give participants the opportunity to look closely at workforce training and regional job opportunities with an emphasis on how automation and technology will continue to change job opportunities."
Alabama Governor Kay Ivey joined Brown, Lawson State Community College President Perry W. Ward and Alabama Community College System Chancellor Jimmy H. Baker and Vice Chancellor for System Development and Strategic Advancement Susan Price in opening the event on April 9. In addition to governing the state of Alabama, Ivey serves as the president of the Alabama Community College System Board.
The institute's goals included:

Strengthening the governance of community and technical colleges to improve student success, equity, workforce preparation and completion.
Elevating knowledge of how effective governance contributes to a culture of transparency and accountability focused on improving student success, equity and completion.
Improving outcomes system-wide and failing commitment to strengthening institutional capacity to accelerate and improve student success, equity, workforce preparation and completion.
Promoting advocacy for completion as a key measure of college outcomes and student success.
Advance student success by engaging all stakeholders.
"This event is part of ACCT's new model of holding regional 'courageous conversations' and dialogue intended to help colleges to improve student progress and completion," Brown said. Students from four Alabama colleges catalyzed courageous conversations about a variety of special community college interest areas, including DACA, veterans' interests, NASA technologies, and concurrent or dual high school and community college enrollment.
"The Governance Institute for Student Success is an excellent opportunity to focus on high-impact policies that state system governing boards have to move the needle for all students," said ACCT Governance Institute for Student Success and Special Projects Director Norma W. Goldstein. "We are thrilled that Alabama took the lead to host this very special regional board development event for their states."
Goldstein added, "We are grateful to Strada Education Network for supporting our efforts to bring this Southern Regional GISS to four state system governing boards."
To date, over 700 trustees who represent over 200 community colleges in 12 states have participated in the Governance Institute for Student Success.