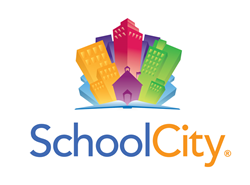 "The Measured Progress item bank in our SchoolCity SUITE Assessment Platform has been key to improving our district assessments. Teachers find the questions challenging and comprehensible to students." Monica Leon, Cambridge Public Schools
SANTA CLARA, Calif. (PRWEB) April 30, 2018
SchoolCity® proudly announces a partnership with Measured Progress, Inc. to add high-quality assessment content from Measured Progress® to the SchoolCity SUITE platform. This partnership brings together two education companies with decades of K–12 assessment experience. The alliance underscores each company's commitment to develop and deliver personalized learning solutions that improve teaching and learning and, as a result, student achievement.
Through this partnership, SchoolCity SUITE partner districts can now use formative assessment items and pre-built quizzes from the Measured Progress Formative Content Bank and STEM Gauge®. With these resources for reading, mathematics, and science, educators can build common district assessments that match the level of rigor students see on statewide assessments.
Monica Leon, Math Coach at Cambridge Public Schools notes, "The Measured Progress item bank in our SchoolCity SUITE Assessment Platform has been key to improving our district assessments. Teachers find the questions challenging and comprehensible to students. Teacher buy-in, in turn, supports productive data meetings and clear action planning."
"This alliance is a positive one for our companies and the customers we serve," said Karl Gustafson, National Director, Sales and Business Development for Measured Progress. "We know that district leaders are looking for assessments that align to NGSS and CCSS and provide clear evidence of student learning. This partnership makes it even easier for districts to put that evidence into action."
Vaseem Anjum, President, and CEO of SchoolCity, says "Bringing the quality of Measured Progress STEM Gauge and Formative Content Bank to our SchoolCity partner districts is important to our promise to fully customize to their assessment needs. Their instant and resounding response to this offering provided clear evidence of this partnership fit."
The Measured Progress Formative Content Bank is a set of premium formative assessment items and preconfigured quizzes that help teachers gather classroom evidence of student learning. Built to support college and career readiness standards for grades 1–12, the Formative Content Bank allows teachers to assess at various levels of cognitive complexity. STEM Gauge is a formative assessment resource for science that supports classroom instruction in the transition to Next Generation Science Standards (NGSS®)*.
Districts that would like more information on SchoolCity SUITE or how to add Measured Progress content to their existing SchoolCity SUITE platform, please view our blog with on-demand webinars at https://info.schoolcity.com/blog/new-schoolcity-partnership-with-measured-progress or visit https://www.schoolcity.com/Demo to request a custom consultation for your district.
###
About SchoolCity
SchoolCity provides innovative personalized learning solutions for students by using assessment and analytics to drive the selection of resources that help students gain mastery of knowledge and skills necessary to attain college and career readiness. Integrating seamlessly within the K-12 ecosystem, SchoolCity delivers intuitive tools to help students and educators monitor progress and make data-driven decisions that improve educational outcomes. We proudly back our industry-leading product lineup with comprehensive customer care that engages users from district to classroom. For additional information, visit http://www.schoolcity.com.
About Measured Progress
Measured Progress, a nonprofit organization, is a pioneer in authentic, standards-based assessments. For more than 30 years, we have been connecting the K–12 educational community with innovative and flexible assessment solutions. Our goal is to provide meaningful information about student progress to improve teaching and learning. For more information, visit http://www.measuredprogress.org.