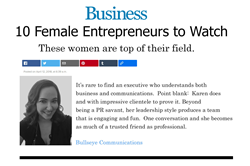 This achievement is a testament to the consistent hard work and dedication of our entire team.
WASHINGTON (PRWEB) April 13, 2018
Washington, D.C.-based Bullseye Communications' founder has been recognized for her entrepreneurship, PR savvy and contributions to the business community. Through client nominations, thousands of candidates were assessed against various categories and then a top list of ten executives were named ranging in industries from travel to communications to tech to media and more.
Boasting an impressive roster of clientele in the entertainment, media, sports and travel/hospitality arenas, the Bullseye Communications team works on major national brands, providing sound, strategic counsel to earn the highest-level media placements.
"This achievement is a testament to the consistent hard work and dedication of our entire team," said Karen Hansen, President of Bullseye Communications. "We continue to innovate and provide creative, results-orientated campaigns to our clients year after year. I am proud to be selected among a group of other female executives that I admire."
About Bullseye Communications
Bullseye Communications is a full-service Public Relations agency offering traditional and digital media relations, talent relations, event production and social media management. The company is rooted in the philosophy of serving as a direct extension of their clients while executing results-orientated strategic communications campaigns. The team has earned several PR awards and honors and boasts representation across the industry and on Boards such as National Academy of Television Arts & Sciences (NATAS), Women in Cable and Telecommunications, Inc. (WICT) and Television Publicity Executives Committee (TPEC). More about Bullseye Communications at http://www.bullseyecomm.com