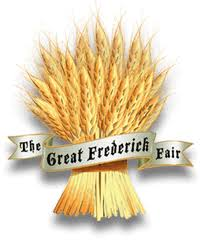 "The Great Frederick Fair continues to bring the BEST entertainment to Frederick County!", Jim Grimes, Chair of the Entertainment Committee.
FREDERICK, Md. (PRWEB) April 16, 2018
"The Great Frederick Fair continues to bring the best entertainment to Frederick County," explains Jim Grimes, Chair of the Entertainment Committee. "This year we are expanding our entertainment to include the sensational Darci Lynne and Friends LIVE and a young female ventriloquist who received more votes than anyone ever to win America's Got Talent. This night will be great for the entire family! We have also brought track seating back for every concert, added annex seat pricing and have a tremendous lineup of Country, Classic Rock, Motorsports and Contemporary Christian music."

Friday, September 14, 2018: Gary Allan, presented by A & B Luck Plumbing and Heating and The Great Frederick Fair. Gary Allan brings his blend of smoldering vocals, rebellious lyrics and a raucous performance to open nine nights of GREAT entertainment! He is described as a modern-day outlaw, yet he sings such soulful songs as "Best I Ever Had", "Life Ain't Always Beautiful", "Watching Airplanes" and his Number 1 Hit, "Every Storm Runs Out of Rain".
Saturday, September 15th: The Great Frederick Fair is bringing the classic rock of '60s legends John Kay and Steppenwolf presented as part of the Bud Light Concert Series. John Kay and Steppenwolf is known for its blues-based rock anthems, "Magic Carpet Ride," "Rock Me," "Monster" and "Born To Be Wild", which was featured in the movie Easy Rider.
Sunday, September 16th: 2018's ACM New Male Vocalist of the Year, Brett Young, will be performing. The concert is presented by DARCARS Toyota of Frederick. Brett Young's new release "Mercy" follows an incredible album which included "Like I Loved You", "Sleep Without You" and his Number 1 hit "In Case You Didn't Know". Brett's special guest, Riley Green, has achieved an incredible amount of success; releasing three popular EP's, starring in two TV shows (Winner of Redneck Island on CMT and his very own hunting show on DirtRoadTV). He has played across the southeast for the last 5 years to hordes of music lovers singing the words of his Alabama anthem ("Bury Me In Dixie") back to him.
Monday, September 17th kicks off three awesome nights of Motorsports starting with the Lucas Oil East Coast National Truck and Tractor Pull, presented Krietz Auto followed by two nights of smash-up Demolition Derbies!
Tuesday: Mark's Equipment Service and McHenry Small Engine sponsor the Demolition Cars
Wednesday: Mark's Equipment Service and Middletown Valley Heating & Cooling sponsor the Demolition Trucks, Vans and Figure 8!
Thursday, September 20th: Scotty McCreery, presented by South Side Tire & Auto and The Great Frederick Fair, returns to Frederick. A lot has changed since his last appearance. Say's McCreery, "I've lived a lot of life since my last record. I moved out on my own, I traveled across the country and the world, I got engaged, I was dropped by my label, I was even robbed at gunpoint. So, I really wanted this album to show who Scotty is at 24, what's going on in my life, and I think we accomplished that." Scotty's new album, Season's Change, proves that with the smashing success of the first song released, "Five More Minutes" and now, "This Is It" tells the story of how McCreery proposed to Gabi Dugal last September.
Friday, September 21st: America's Got Talent, Season 12 winner, Darci Lynne and FriendsLIVE presented by Playground Specialists will sell out the Grandstand. Darci Lynne is the youngest contestant to ever win "America's Got Talent" receiving more votes than anyone EVER on the show. Following AGT she sold out her headlining show in six minutes, having to add more shows. She is a young ventriloquist who is inspiring the next generation to keep it alive. Darci is someone to watch for as her career is just getting started. But in her mind, positively affecting one person through her performances is all she desires.
Saturday September 22nd: Contemporary Christian artists, Matthew West and Jordan Feliz, presented by South Side Tire & Auto and Eddie Mercer Agri-Services, Inc. Matthew West, best known for inspirational songs like, "Do Something", "Hello, My Name Is", "Broken Things" and "Grace Wins", Matthew is simply ALL In! Jordan Feliz' has had a breakout career. The success of his first single, "The River," led to his first Dove award and the single became a Number 1 hit on several Billboard charts (for multiple weeks) and now the album FUTURE is Billboards #1 Christian Album in the Country.
Tickets can be purchased on-line at http://www.thegreatfrederickfair.com beginning Saturday, May 5th at 8:00a.m.
Complete information is available on the Fair's website: http://www.thegreatfrederickfair.com and is also available on the fair's Facebook page!