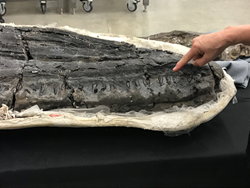 Nevada brewery teams up with German paleontologist Dr. P Martin Sander to discover new species of Nevada's state fossil, the Ichthyosaur. Special presentation and craft beer release will be held April 13 from 5 til 10pm. Tickets are $16 at the door or at GreatBasinBrewingCo.com.
SPARKS, Nev. (PRWEB) April 13, 2018
Great Basin Brewing Co., headquartered in Sparks, Nevada, the Natural History Museum of Los Angeles County, The National Geographic Society and the University of Bonn in Germany are teaming up for the second year in a row to bring the latest updates from the continuing expedition.
Students and professors from the Division of Paleontology of the Steinmann Institute of the University of Bonn, led by Dr. P. Martin Sander, professor of vertebrae paleontology, combed the Augusta Mountains in central Nevada last summer to further the understanding of the ancient Triassic ocean environment.
As of last year, the team from the University of Bonn had identified at least 12 different species of Ichthyosaurs in the Augusta Range from previous expeditions. During the last field seasons, the team uncovered a huge creature, a species completely new to science, projected to have been about 50 feet long – most likely will turn out to be the first large predator ever discovered in the fossil record, worldwide.
While sometimes confused with dinosaurs, Ichthyosaurs were true reptiles of a different lineage. Ichthyosaurs, Nevada's official state fossil, represented the first large predator after a major extinction event causing loss of most species some 250 million years ago. Fossils of various species of these evolving creatures have been found all over the world.
Tom Young, owner and brewmaster of Great Basin Brewing Co. and former Geologist has always been somewhat of a science geek. Great Basin's Ichthyosaur India Pale Ale® is the brewery's best seller. This aromatic hop forward, malt balanced IPA is wonderfully full bodied and smooth with a blast of grapefruit, spice and pine at the finish, the result of a blend of carefully selected hops. Most call it "Icky" for short. Great Basin has produced almost 10 million bottles at their Taps and Tanks location alone, making it the most popular Nevada-made craft beer in the State of Nevada.
"Nevada is one of the most important regions on earth to understand how Ichthyosaurs helped shape and survived in the ancient ecosystem," said Young. "It was only right to name one of our brews after this legendary reptile."
The largest specimens of Ichthyosaurs have been found near Gabbs, Nev. and are preserved and viewable at the Berlin-Ichthyosaur State Park. These specimens are reported to have died about 225 million years ago and reached lengths of up to 60 feet. During the Triassic Period, Nevada and California were a part of a vast ocean and did not exist as a landmass. At that time, Pangaea was a supercontinent where all of the present continents were connected surrounded by a vast ocean. Prior to the breakup of Pangaea, some 175 million years ago, both land and sea life evolved.
For 12 years, Great Basin Brewing Co. has offered assistance to further the Augusta Mountains expedition in a couple of ways. In addition to cash and beer donations Great Basin has also assisted the expedition team by driving their beer truck into the back roads of Nevada and transporting these newly uncovered reptile fossils to the Natural History Museum of Los Angeles County.
For the second year, Great Basin Brewing Co. is proud to host the Ichthyosaur Expedition Party, a fundraiser to assist the upcoming field research with Dr. Sander and his Bonn University team. This year's event takes place at Great Basin Brewing Co.'s production brewery on April 13th from 5 til 10 pm, and includes a keynote by Dr. Sander of Bonn University and Dr. Luis Chiappe, Director of the Dinosaur Institute that the LA Natural History Museum. The brewery will also release Martina Ichthyo"sour" IPA, a special IPA to celebrate one of the newly discovered species by the Martin team. There will be food and beer for purchase, as well as fun games, including 4-person team pin-the-tail on the life-sized (50 foot) Ichthyosaur and a prehistoric spelling bee. Tickets are on sale for the party for just $16, all proceeds benefiting this year's field endeavors, which includes 1 free pint of Great Basin craft beer or craft root beer. Check out details at greatbasinbrewing.com.
To date, Great Basin Brewing Co. has donated more than $25,000 and lots of beer towards funding this research.
Along with Great Basin Brewing Co., sponsors of this expedition include; The University of Bonn, DFG German Research Foundation, the Natural History Museum of Los Angeles County and the National Geographic Society.