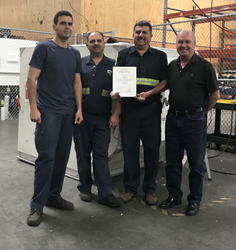 ULD Services Team-Luis, Enrique, Miguel and President Neil Maclean receive FAA Repair Station Certificate in Long Beach CA to repair ULD Containers
(PRWEB) April 18, 2018
Mentair Group Pro Assists ULD Services LLC obtain an FAA Repair Station Certification.
ULD Services LLC, a Long Beach California aviation company, recently obtained an FAA Repair Station Certificate with the assistance of Mentair Group. ULD Services President, Neil Maclean is excited his company has received the FAA certification.
"ULD Services is very pleased with the assistance provided by Mentair's Sharon Grey to obtain our FAA Repair Station Certificate. With the FAA's new certification requirements, her expert help made for a very smooth and efficient application and certification process with the FAA."
Mr. Maclean said "The manuals and forms I was provided were completely customized and every detail was captured to reflect the unique technical aspects of my business. The FAA Data Collection Tools (DCTs) were expertly complied with by Ms Grey. She was a great help to ensure all the correct information was uploaded into the new FAA web portal provided to new repair station applicants. The FAA Inspector's review went very well and I'm pleased I selected Mentair to assist me."
Mr. Maclean discusses the air cargo transportation industry and the importance of Unit Load Devices (ULD) maintenance and repair. "In the last 10 years we've seen a rapid growth in air travel and especially the movement of cargo within the airline industry, low pricing on an airline ticket and online shopping is playing a major role in this continually expanding air transport industry."
"A large part of today's airline industry uses ULDs to transport their customer's items. Baggage and cargo carried in the holds of aircraft are secured so they cannot move within the hold in flight. The primary purpose of a ULD is to improve flight safety compared to bulk loading of holds. Whilst a serviceable ULD properly loaded will indeed achieve this, lack of attention to ULD damage can result in risk arising from the use of containers that are not within their allowable damage limits."
"Containers are typically lightweight structures comprising a structure of aluminum extrusions, a relatively thick aluminum base sheet, aluminum or composite side and roof panels, and a fabric or metal door. By necessity, they are made as light as possible. However when subjected to severe handling conditions, this will result in the ULD exceeding the damage limitations, becoming unserviceable and in need of repair."
ULD Services has been very busy since receiving their FAA certification and they are looking forward to future growth for the company. Mr. Maclean said "ULD Services has already won contracts with airlines from the Asia Pacific American Coalition (APAC) region and hopes to broaden the customer base here in the USA by offering the airlines a service where the customer always comes first."
ULD Services LLC is located at 2030 West Esther Street, Long Beach California 90813. It is centrally located to the Long Beach, Los Angeles and Orange County airports. ULD Services LLC contact information: Email: nmaclean@uld-services.com Telephone: USA (310) 350-0928.
ULD Services is an owner operated Maintenance Repair Operator (MRO) FAA Part 145 Repair Station formed by Neil Maclean. Neil has over 20 Years' experience working in the ULD repair and maintenance industry, working in medium and large MRO corporations. He said "The employees at ULD Services have extensive experience and are very knowledgeable on all ULD Services' repair techniques and assembly of almost every manufactured container ever made. ULD Services understands the need for the airlines to have their ULD equipment returned to service quickly and repaired in accordance with the regulations and at a cost that creates healthy business relationships."
Mentair's Managing Partner Sharon Grey said "We are proud to have worked with Mr. Maclean to obtain his FAA Repair Station Certificate. These certifications are a partnership between Mentair and the client to ensure they receive a totally customized and useable set of repair station manuals. It's important to provide the client with a set of documents that receive a positive review by the FAA and facilitate a productive and smooth start up for the repair station. We wish Mr. Maclean much success with his business."
Mentair is an international consulting company that offers a strong portfolio of aviation consulting services for all types of fixed wing aircraft, helicopter operations, repair stations and ground operations. The company has a network of exceptionally qualified aviation professionals and has the resources to provide clients with a variety of services for business and commercial aviation as well as repair stations and FBOs. Manual development or services to upgrade documents include; repair station manuals, general maintenance manuals, ground operations manuals and hazmat will not carry manuals. Mentair also provides Auditor Training (of interest to IS-BAO / IS-BAH auditors), SMS Training and has registered auditors to perform IS-BAO and IS-BAH audits. Mentair offers services to provide clients with opportunities for process improvements, customized audits, and collaboration to develop methods to sustain benchmark status for their operation.
Mentair Group Pro, LLC, P.O. Box 540666, Omaha, NE 68154-0666 http://www.mentair.com Phoenix Arizona USA Office 480-788-9767 and 402-403-9767 Omaha Nebraska USA Office
Sharon Grey sgrey@mentair.com