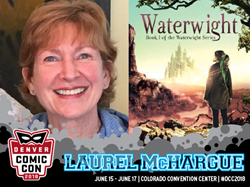 It's vital for educators to find genres that speak to students if we hope to improve literacy.
LEADVILLE, Colorado (PRWEB) April 24, 2018
When author Laurel McHargue contacted Bruce MacIntosh, Director of Programming for this year's Denver Comic Con, she was hopeful that he might find a spot on an author panel for her to fill. She never imagined she would be offered an even better opportunity to participate in the event.
McHargue said, "He wrote that if I was willing 'to actually moderate several panels' and construct them, I would be able to participate on them too. How could I say no?"
She presented seven author panel ideas, complete with descriptions and suggestions for which authors might best contribute to the discussion topic, "and he approved them all! I'm excited and honored," she said. "My panels include developing unique characters, world-building for dystopian fiction, re-imagining myth in YA fiction, finding inspiration in the mundane, finding new ways to present hackneyed plots, using symbolism, and considering how names influence a reader's experience. Can't wait to hear what other authors are doing with these challenges."
This recent article in "The Know" by John Wenzel sums up what makes the Denver Comic Con unique among other Comic Cons: Six months out, Denver Comic Con 2018 looks to strike balance between celebs and education. As a former Language Arts teacher, McHargue loves the Pop Culture Classroom tie-in with the event. "I've visited classrooms and school writing groups and have been inspired by the talent and enthusiasm I've seen for creative writing in all its forms. It's vital for educators to find genres that speak to students if we hope to improve literacy," she said.
In addition to all of the free panels visitors may experience, McHargue mentioned another exciting event that will occur at this year's Denver Comic Con: the announcement of the winner of the Excellence in Graphic Literature Award. "I aspire to producing works that will someday merit such an honor," she said.
McHargue's fantasy adventure series Waterwight has earned favorable reviews from Kirkus. A review of Book I comments that "Striking dreamscapes make this tale about a heroine who can fly a fine first outing in a planned series." The review of Waterwight Flux: Book II of the series highlights "Imaginative characters that powerfully tap into myth." Read the full review here.
"I'll finish the Waterwight series this year with Book III," said McHargue. "I include synonym glossaries and questions for discussion In each book to make them completely student, teacher, and classroom-friendly."
"Come find me at Denver Comic Con! I'm always excited to meet new people, and this event will be inspiring for us all in so many ways," said McHargue.
See the link to McHargue's DCC presence here and check out the other authors, comics, film and TV personalities attending this year's event.
Laurel McHargue blogs at leadvillelaurel.com and hosts the podcast Alligator Preserves. Find it on iTunes, Stitcher, or wherever you enjoy listening.
Find all of her books on Amazon