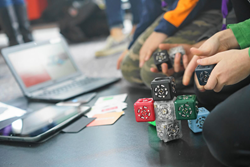 "I wanted my students to be able to explore how to use the tools on their own without much guidance from myself." - 5th grade teacher
PROVIDENCE, R.I. (PRWEB) April 17, 2018
In a unique partnership, Eduporium teamed up with the Highlander Institute to help teachers in five Rhode Island schools bring innovative STEM technologies into their classrooms. During a 6-week pilot program, which began back in February, students had the opportunity to work with various educational technology tools that were donated to them by some of Eduporium's vendor partners.
Eduporium is home to a fully stocked web store with hundreds of discounted EdTech products so teachers can make purchases in one place. Among the big names available on their store are Ozobot, Sphero, Modular Robotics, Edison Robot, and E-Blox, all of whom made generous donations as part of this program. For six weeks, students, who ranged from second to fifth grade, worked with these tech tools and collaborated in designing projects to present to attendees at the nationwide Blended and Personalized Learning Conference, which was held last Saturday in Providence.
"I wanted my students to be able to explore how to use the tools on their own without much guidance from myself," said Dionna Gajdowski, a fifth grade teacher at Winsor Hill Elementary School in Johnston, R.I. Her class received donations that included the popular coding robot, Ozobot, among others.
"Students loved creating this project to present at the conference. I do not think I would change anything for the next time except maybe have more Ozobot's themselves," added Gabrielle Harwood, whose own fifth grade classroom is right next door.
At the conference, crowds gathered to learn more about these projects, which were displayed in the EdUnderground, an area sponsored by Eduporium. In addition to their accomplishments with Ozobot, students presented other original projects, including the Cubelets Challenge with Modular Robotics' Cubelets, the EdPrinter with Microbric's Edison Robot, house construction using the electronic building blocks from E-Blox, and a hand-built maze using the Sphero robot.
"The students worked well together as they were beginning to learn how to use both Sphero and the Sphero Edu app," said second grade teacher, Heather Breton, from Cranston, R.I. "They were even using the robot to learn about geometric shapes," she added about her students, who impressed conference attendees with their knowledge and excitement.
The Blended and Personalized Learning Conference attracted well over one thousand educators from across the country. With a focus on enhancing technology use in the classroom, the student presenters were able to inspire attendees and will hopefully help them find inventive ways for using EdTech to enhance their own teaching.
"We got to use the Edison Robot to learn Python," said a fourth grader from Dayna Safran's class in Barrington, R.I. That's just not something you hear from a fourth grader all too often.
By developing a relationship with the Highlander Institute and in working closely with them, the final results of the pilot program exceeded the expectations of everyone at Eduporium.
"What a day it was! We are so proud to have been a part of the fountain of energy and to see the maturity and ownership of learning these students demonstrated," said Eduporium co-founder, Irina Tuule. "This clearly supported our hypothesis that innovative technology has the potential to revolutionize education."
Eduporium hopes to launch similar programs in different schools over the next year with the continued support of its vendor partners, who each generously donated to these students.