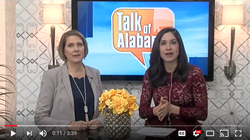 Being seen as a "connector" builds your credibility as a business professional. -Nancy Covert
BIRMINGHAM, Ala. (PRWEB) April 16, 2018
Nancy Covert, president of Dale Carnegie of Central and Northern Alabama, appeared on Talk of Alabama to talk about a new workshop: Networking to Build Your Personal Brand & Promote your Organization. Co-sponsored by the Birmingham Business Journal, this half day seminar will cover how to strengthen your first impression as well as how to develop an effective personal branding statement.
"Business people of all walks of life have opportunities to network," says Covert, "and it's not just for sales people." Building a strong personal brand is important because people will recommend you for jobs based on getting to know you and in sales, prospects will want to do business with you based on authentic relationships you have built. Many professionals avoid networking events because they don't know how to handle themselves in these uncomfortable situations.
This event will help participants understand:
-Who to talk to
-What to say
-How to walk up to a total stranger and start an authentic conversation
-How to effectively break in to a conversation and politely excuse yourself from a conversation when the time is right
-How to make connections and share business strategies
Being able to connect is a skill that helps other people succeed. If you're able to connect someone with someone else and help them both mutually benefit, you will be seen as a business resource. Being seen as a "connector" builds your credibility as a business professional.
Sales professionals often view networking events as an opportunity to sell their products or services. Pushing products or services at a networking event is not only sure fire way to turn people off, but it will also give these individuals a bad reputation. At this workshop, participants will learn the importance of building relationships first and then taking the step towards talking business.
Participants will walk away from this half-day seminar with the tools they need to start making a stronger first impression, building more authentic relationships and developing a more effective personal brand.
Dale Carnegie of Central and Northern Alabama has a variety of personal and organizational development programs including a 3-Day Sales Training program June 1, 8, and 15: Winning with Relationship Selling. For more information, visit Dale Carnegie Training on the web at http://www.dalecarnegie.com/birmingham or call 204-444-5011. The Network to Build Your Brand Event sponsored in part by the Birmingham Business Journal is taking place on Thursday, April 26 | 8:30am - 11:00am. Click here to register. If you'd like to view the full Talk of Alabama segment, click here.