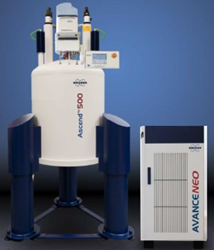 Our investment in this state-of-the-art spectrometer reflects our continued commitment to provide our world-class solutions to our customers across the globe
ALBANY, NY (PRWEB) April 23, 2018
AMRI will expand its nuclear magnetic resonance (NMR) spectroscopy capabilities in Europe with the addition of the Bruker AVANCE NEO 600 MHz NMR Spectrometer.
"NMR is a core technology of our analytical services offering. Our investment in this state-of-the-art spectrometer reflects our continued commitment to provide our world-class solutions to our customers across the globe," said Ana Maria de la Parte, AMRI site head, Valladolid, Spain.
The Bruker AVANCE NEO 600 MHz NMR provides AMR with enhanced productivity for delivering high quality NMR data with increased sensitivity utilizing a cryoprobe. This capability will also allow AMRI to support the FDA requirements for biosimilarity testing and USP (e.g., heparin) testing requiring higher field NMR.
The new 600 MHz NMR spectrometer, which will be operational in late 2018, provides direct access to high-quality data as a stand-alone service offering and will further enhance the valuable information that AMRI delivers from other chemistry services including polymorph, salt and cocrystal screens. By consulting with AMRI now, clients can factor the expanded capability into their project timelines to ensure it will be ready for their programs.
About AMRI
AMRI, a global contract research and manufacturing organization, partners with the pharmaceutical and biotechnology industries to improve patient outcomes and quality of life. With locations in North America, Europe and Asia, AMRI's team combines scientific expertise and market-leading technology to provide a complete suite of solutions in Discovery, Development, Analytical Services, API Manufacturing and Drug Product. For more information about AMRI, visit http://www.amriglobal.com.
Media Contact:
Gina Rothe
gina.rothe(at)amriglobal.com
518-512-2512