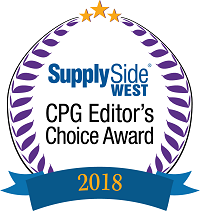 PHOENIX (PRWEB) April 16, 2018
The Natural Products INSIDER/SupplySide editorial team will evaluate nominations to determine the finalists in each category. Finalists will be showcased via SupplySide and Natural Products INSIDER, and the winners announced at SupplySide West in Las Vegas on November 8 and 9, 2018. Winners are selected by the editors based on market innovation, consumer need, scientific substantiation, integrity and the "cool" factor.
"As editors who cover the global nutrition industry, we love to celebrate the brands that showcase creative thinking and execution by using a new ingredient, flavor profile, technique or process to set a precedent that disrupt the industry," said Sandy Almendarez, editor in chief, INSIDER. "The SupplySide CPG Editor's Choice Awards allow us to give these products the attention they deserve and to recognize the top innovators in hot categories."
The shortlist of finalists will be released in September 2018, with slideshows on INSIDER highlighting their unique value and market position. After the winners are announced in person in Las Vegas, they'll be showcased in the post-show coverage on the SupplySide Health & Nutrition Network brand sites, including photos, quotes and discussion of the product's unique positioning.
The submission deadline is Wednesday, August 22nd, 2018.
Go to https://goo.gl/zy5DbT to enter today!
The 2018 SupplySide Editor's Choice Awards categories are:
Supplements categories:
Antioxidants
Brain Health Supplement
Digestive Health Supplement
Healthy Aging
Heart Health
Joint Health
Multivitamin
Omega-3s
Personal Care
Personalized Nutrition
Probiotics
Specialty Supplement
Sports nutrition supplement
Weight Management
Women's Health
Food/Beverage categories:
Allergen Free
Animal Nutrition
Bars
Breakfast Food
Children's Products
Condiment, Dressings & Marinades
Coffee/Tea
Confectionery
Energy Boosters
Functional Food/Beverage
Organic Beverages
Plant-Based Food/Beverage
Snacks, Salty
Snacks, Sweet
Sports Nutrition Food/Beverage
About SupplySide West: Hosted by Informa Exhibitions, this annual tradeshow and educational forum is the finished product manufacturer's gathering place for top performers, trends, scientific advances and networking. SupplySide West is all about the exploration, discovery, innovation and marketing strategy around the development of finished consumer goods that drive the global business economy. The 2018 show will be held November 6 to 10 at Mandalay Bay in Las Vegas. For more information, visit supplysidewest.com.
About Natural Products INSIDER: The official media of SupplySide, INSIDER is the leading information source for marketers, manufacturers and formulators of dietary supplements, healthy foods and cosmeceuticals. Since 1997, INSIDER has been serving the needs of the global nutrition industry. INSIDER boasts the largest magazine and web audience in the industry delivering news, analysis and features to executives involved in the expanding market of global nutrition. Visit us at naturalproductsinsider.com
About Informa Exhibitions: SupplySide West and Natural Products INSIDER is part of Informa's Global Exhibitions Division. With over 200 trade and consumer exhibitions annually, Informa Exhibitions is a global market leader in such end markets as Boating, Beauty, Construction & Real Estate, Life Sciences, Maritime, Health & Nutrition, Agriculture and Pop Culture. Through face to face and digital channels, its transaction-oriented exhibitions enable communities to engage, experience and do business. In doing so, Informa brings together people who want to buy and sell, network, do business and gain inspiration. Industry insight, coupled with an innovative and entrepreneurial approach, provides Informa Exhibitions customers and partners with the opportunity to create business advantage and access markets.
Informa Exhibitions is a division of Informa PLC, a leading business intelligence, academic publishing, knowledge and events business, creating unique content and connectivity for customers all over the world. Informa PLC is listed on the London Stock Exchange and is a member of the FTSE 100.