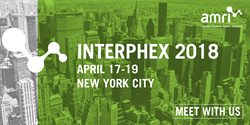 Our technology and unique experience in this space is routinely leveraged at multiple product lifecycle stages …
ALBANY, N.Y. (PRWEB) April 17, 2018
AMRI, a global contract research, development and manufacturing organization working with the life sciences industry to improve patient outcomes and quality of life for more than 25 years, will feature its complete suite of drug development and manufacturing solutions at INTERPHEX, April 17-19, at the Jacob Javits Center in New York, NY.
Additionally, the company will showcase its container closure integrity testing services offered through its Whitehouse Laboratories division.
"Container closure integrity (CCI) testing plays a critical role the sterility and stability of parenteral products," said Brandon Zurawlow, associate director, CCIT. "Our technology and unique experience in this space is routinely leveraged at multiple product lifecycle stages including package development, manufacturing process validation, distribution process analysis, and stability programs."
With the release of the revised USP 1207 and pending Annex 1 revision, the adoption of more modern, deterministic, and comprehensive CCI programs is expanding. AMRI partners with clients to develop container system testing strategies that extend beyond CCI to encompass compendial testing, extractable and leachable studies, ISO device, delivery system testing, among other solutions.
Zurawlow will be available to meet at Booth 3305E.
AMRI representatives also will be on-hand at Booth 1129 to discuss the company's global analytical, API and drug product solutions during the conference.
About AMRI
AMRI, a global contract research and manufacturing organization, partners with the pharmaceutical and biotechnology industries to improve patient outcomes and quality of life. With locations in North America, Europe and Asia, AMRI's team combines scientific expertise and market-leading technology to provide a complete suite of solutions in Discovery, Development, Analytical Services, API Manufacturing and Drug Product. For more information about AMRI, visit http://www.amriglobal.com.