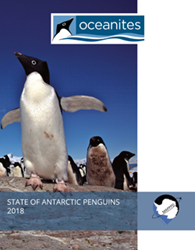 This large increase in Antarctic temperatures could be a bellwether for the kind of change many fear will happen to those of us in more temperate regions in decades ahead.
WASHINGTON (PRWEB) April 18, 2018
Oceanites, Inc., a Washington DC based non-profit organization which has championed science-based conservation and decision making for more than 20 years, announced the release of its annual State of Antarctic Penguins 2018 report (SOAP 2018). The SOAP report (available at https://Oceanites.org/soap) comprehensively summarizes the population size and trends of Antarctica's five penguin species — Adélie, chinstrap, emperor, gentoo, and macaroni. The report also spotlights future challenges for Antarctic penguins as they adapt to changing temperatures in the region.
The Antarctic penguins total at least 6.1 million breeding pairs nesting at 661 or more sites across the entire Antarctic continent. The report used the most current scientific data, including 3,617 records from 108 sources of on-the-ground colony counts and satellite photo analyses.
The SOAP reports assist a wide variety of Antarctic interests: governments, scientists, NGOs, and the private sector, including fishing and tourism operators, as well as concerned citizens throughout the world.
Oceanites continues to closely track the notable changes in the Antarctic Peninsula, which has undergone a well-documented period of warming over the last six decades of +2˚ C. / 5˚ F. and in winter of +5˚ C. / 9˚ F. This increase is huge, and could be a bellwether for the kind of change many fear will happen to those of us in more temperate regions in decades ahead. In the Antarctic Peninsula, Oceanites' Antarctic Site Inventory has noted Adélie and chinstrap penguin declines and gentoo penguin increases. However, there are indications that the warming trend has leveled off in recent years with a concomitant stabilization of some Adélie populations.
Ron Naveen, founder and president of Oceanites, noted: "It is through these changes in the Peninsula that we hopefully will better understand how future generations of mankind may or may not adapt to a similar amount of warming in our own backyard. When we see declines in two species while a third thrives, we must ask why such disparate responses? What drives such changes? Is it food supply, nesting and breeding conditions, or diseases? These are the questions we'll ask when the warming we see today in the Antarctic comes our way."
About Oceanites
Oceanites is taking the lead in penguin-focused messaging about climate change, so that all of us, working together, may do a better job steering our planet's future. For additional information about Oceanites please visit https://www.Oceanites.org.
Antarctica Penguins Infographic