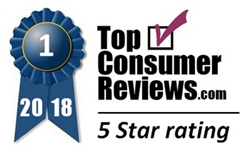 We gladly award TurboTax our highest ranking among tax software programs in 2018.
OVERLAND PARK, Kan. (PRWEB) April 13, 2018
TopConsumerReviews.com recently awarded their highest five-star rating to TurboTax, a long-standing frontrunner in Tax Software products.
Every year around spring, most Americans find their thoughts turning towards April 15: the deadline for filing their income taxes. Sorting through all of the possible deductions, entering every last dollar of income, and calculating the expected refund (or amount owed) by hand is enough to make most people uncomfortable at best. Many people decide to use tax software to walk them through the process, making it less likely to have errors that might flag an IRS audit. Today a number of different tax software options exist.
"TurboTax is the go-to software for tax preparation with individuals and businesses," explained Brian Dolezal, of TopConsumerReviews.com, LLC. "Even for those who have zero understanding of income tax requirements, TurboTax gives them the peace of mind to know that their return has been prepared accurately. With an easy-to-understand question-and-answer format, the program walks people through every required category until the return is complete, and then gives them the option to file on paper or electronically. TurboTax comes in four different varieties, depending on the needs of the individual - such as those who want to include Schedule C deductions or who have investment and/or property rental earnings. We gladly award TurboTax our highest ranking among tax software programs in 2018."
To find out more about TurboTax and other tax software products, including reviews and comparison rankings, please visit the Tax Software category of TopConsumerReviews.com at https://www.topconsumerreviews.com/tax-software/.
About Intuit
Since 1983, Intuit has been an industry leader in personal finance and accounting software with four flagship products: TurboTax, Quicken, Mint, and QuickBooks. With an annual revenue of more than $4 billion and more than 45 million customers worldwide, Intuit continues to be a household name with their solutions for the financial needs of individuals and customers alike. Intuit's corporate headquarters are in Mountain View, CA, with additional offices located throughout the U.S. and five other countries.
About TopConsumerReviews.com
TopConsumerReviews.com, LLC is a leading provider of independent reviews and rankings of thousands of consumer products and services. From Tax Preparation Software to Credit Repair Programs and Personal Loans, TopConsumerReviews.com delivers in-depth product evaluations in order to make purchasing decisions easier.