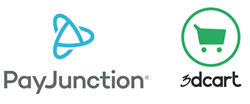 "... by integrating with PayJunction, we're able to deliver innovative solutions to our customers that provide them with ways to process payments more efficiently and with ease. — Jimmy Rodriguez
SANTA BARBARA, Calif. (PRWEB) April 16, 2018
In an effort to deliver unparalleled functionality to its user base, the e-commerce platform 3dcart updated its integration with PayJunction to include three new, innovative features. This update is a prime example of 3dcart's attention to customer service and product excellence.
Now, 3dcart customers using its easy-to-build online shopping cart can process their e-commerce transactions via PayJunction and benefit from the following features: ACH processing, remote signature capture and tokenized cards on file.
"3dcart merchants need strong choices for payment processing," said Jimmy Rodriguez, chief operating officer at 3dcart. "And by integrating with PayJunction, we're able to deliver innovative solutions to our customers that provide them with ways to process payments more efficiently and with ease."
ACH allows businesses to broaden their accepted payment methods and increase their cash flow with faster deposit times than traditional checks. Remote signature capture gives e-commerce businesses a seamless and convenient method of obtaining customer signatures: All it entails is businesses emailing a digital receipt to their customers to sign via a desktop mouse or smartphone.
Meanwhile, tokenized cards on file allow businesses to securely store cardholder data in an undecryptable way, which provides numerous operational benefits: Businesses can issue refunds, void transactions, set up recurring payments and recharge with one click.
These technologies innovatively give e-commerce businesses heightened control over their finances, wider payment acceptance and chargeback protection like never before.
These features are in addition to those previously built into 3dcart's PayJunction integration. 3dcart customers who use PayJunction also eliminate their Payment Gateway bill. Businesses that choose PayJunction can streamline their online payment providers and use a single provider for their in-person and online transactions.
To learn more about 3dcart, visit this page. To begin processing payments with PayJunction, simply fill out this form.
About 3dcart
3dcart, located in Tamarac, Florida, is the most SEO-friendly e-commerce platform for retailers and internet marketers to grow their online stores' traffic and sales. 3dcart offers 24x7 technical support, 100+ mobile-ready themes, order management software, a built-in blog, email marketing tools and more. Since 1997, the company has been a leader in the e-commerce market, building online stores for businesses of all sizes. Today, 3dcart is a Visa PCI certified Google partner.
About PayJunction
Since 2000, PayJunction has disrupted the payment processing industry with transparency and environmental consciousness. As the most comprehensive developer of paperless payment software, PayJunction now processes $4 billion annually and is growing rapidly. Its technology facilitates increased productivity, reduces costs for businesses and mitigates the carbon footprint of an entire industry.