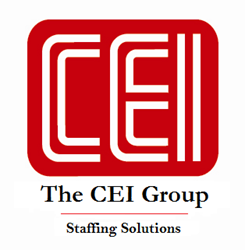 "We are honored that Forbes has recognized our commitment to provide world-class staffing solutions."
WAKEFIELD, Mass. (PRWEB) April 13, 2018
The CEI Group, a national technical staffing firm, headquartered in Wakefield, MA, has been recognized by Forbes as one of America's Best Professional Recruiting Firms for 2018.
This year is the second annual ranking of America's Best Recruiting Firms by Forbes, in partnership with market research firm Statista. The winners were selected based on nearly 35,000 surveys, which resulted in more than 14,500 nominations. The survey respondents included recruiters, job seekers and human resources managers who interacted with recruiting firms within the last three years.
"The mission of our firm is to provide strategic talent when demand is highest," said Dave Harris, Vice President of The CEI Group. "We are honored that Forbes has recognized our commitment to provide world-class staffing solutions."
The CEI group attributes their success to a commitment to in-depth, face-to-face relationship building with both candidates and clients. At a time when many firms are abandoning personal-touch recruiting in favor of artificial intelligence to match candidates to jobs, CEI has strengthened their resolve to maintain a personal approach to staffing solutions, while still embracing the latest technological innovations in the industry.
About The CEI group
Founded in June, 1983, The CEI Group has made a name for themselves as a technical staffing firm committed to relationship building. Today, the company has locations in Massachusetts, Florida, California, and Texas and serve local and nationwide clients. The CEI Group's expertise in both technical and non-technical staffing services makes them a valued partner to organizations ranging from Fortune 1000 companies with an international presence to small companies that appreciate a personal touch.